The Mane Man of L.A Hair Design, David Grossi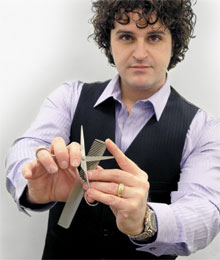 A woman sits in a swivel chair, biting the bottom of her lip nervously.  She knows it's time to transform her hair – long and brittle from a long, cold winter – into something she can feel confident about. With the calming aura and natural talent of David Grossi, she rises from her chair with a smile and glowing new hairstyle.
Since his teenage years, Grossi has dabbled in the art of hair design, amassing 25 years of first-hand experience in the business. His roots in the industry began by watching his hairstylist-father at work, finally picking up the scissors himself to coax unruly and unmanageable manes into something to behold. "Anything I can see with my eyes I can do with my hands," says Grossi. "It's a wonderful feeling to go to work every day with 100 per cent confidence."
Perhaps it's this poise that has lifted  Grossi into the upper echelons of hair design. A dedicated pupil of hair styling, Grossi was trained by the best-of-the-best of the industry, with his stellar exactedness shining through at colour training courses and highly regarded hair competitions. The result of his devotion ultimately gave way to an oasis of beauty realized with L.A Hair Design, a Maple, Ont.-based hair salon that has withstood the tests of time. It was 30 years ago that Grossi was inspired to move his brand to Vaughan, upon returning from an inspirational  sojourn to the über-trendy metropolis of  Los Angeles. His salon continues to thrive as the place where women's needs are understood and where loyal clientele keeps coming back for more. "Hair is a very important part of feeling sexy and confident about the way you look," explains Grossi, creative director of the salon and a former finalist for the Canadian Hairdresser of the Year award.
Using a combination of modern techniques and the treasured customer service of yesteryear, Grossi's
L.A Hair Design team excels at colour correction and repair; formal bridal hairstyles, traditional body wave perms and classic updos. Grossi says of his team: "I love to see young people that have natural talent and a good work attitude. When I find people like that, I try to stick with them and build them up, so that they can get their own clientele, which eventually builds confidence."
Along with an array of hairstyling services, L.A Hair Design offers personal consultations, wash, cut and styles to meet the needs of the everyday woman and man. Esthetic services are also offered. An establishment where experts of style, cut, colour and charm coalesce, Grossi's salon finds balance by working just as hard as it plays.
Whether he's at home enjoying the company of his loving family, singing the lead vocals in a local rock band or giving his clients the look that best suits their personality and taste, Grossi continues to update his vast portfolio of talents. His father, who has close to 50 years of hairdressing and business experience, continues to push his son to achieve nothing but the best. "To this day, he advises me to continue perfecting my craft. Every time I think I have nothing else to learn from him, he shows me something, a lesson that I wouldn't have learned if it wasn't for him."
www.lahairdesign.ca
905.832.2590