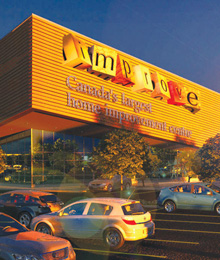 It's not surprising that the man who's spearheading one of Canada's biggest retail projects is in high demand, but the sound of Oleg Chekhter's cell phone ringing for the eighth time in less than an hour solidifies it. Dressed in a pinstriped navy suit, the retail industrialist is relatively relaxed, despite the fact that he's standing on over 300,000 sq. ft. of impending innovation. "We're lucky that we got this place," he says of the Vaughan structure, which sits at the nexus of Highway 407 and Keele Street. Chekhter and his two partners' vision for Improve — the nation's largest home improvement centre — will materialize in the summer of 2013.
What stemmed from Chekhter's personal frustration in renovating his own properties evolved into plans for a full-service centre that will act as a beacon of light for fellow homeowners who lose time and money through improvement ventures. No longer will consumers have to Read more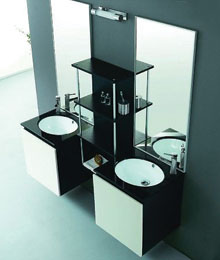 Your home's décor should be a reflection of your individual style and personality.
At Gracia Bath Kitchen Interiors, an expert staff and a comprehensive collection of designer products will achieve the look you've been craving. Whether you dream of an elegant Victorian finish or a modern vibe, Gracia has everything you need. "The two most renovated rooms in the average household are the kitchen and bathroom," says owner David Tong. "Revamping these rooms can really change the look of your home and even increase its value."
Offering contemporary European bathroom and kitchen fixtures, from quality bath and massage tubs, steam units, glass shower columns, to toilets, vanities, sinks and faucets,  Gracia uses its unparalleled experience and expertise to Read more
The cheeky hosts of HGTV Canada's Home Heist sit across from me at a sleek table in Senses Restaurant at the Soho Metropolitan Toronto, a subdued yet upscale establishment gussied up in elegant tones of warm chocolate and cream. Both seem to have stepped out of a chiaroscuro painting: Colin McAllister's dark hair is flawlessly coiffed and pairs nicely with his fitted grey zip-up; Justin Ryan's green eyes pop with his white-and-blue-striped dress shirt, while his pale blond hair is uncharacteristically dishevelled. "You must excuse me, but I got lost in Toronto buying business cards today," he explains. Regardless, Colin and Justin are just as witty and handsome in person as they are on screen. Read more