1. Zara's printed scarves will add a splash of colour to any conventional outfit. www.zara.com
2. Boring mugs not your cup of tea? Anthropologie serves up a hot assortment of sippers and saucers. www.anthropologie.com
3. Slip into Stephan Caras and never look back. This Greek-Australian designer can turn any woman into a modern-day goddess. www.stephancaras.com
4. Leave the clutch behind and go big with a cut-work bag that means business. www.zara.com
5. Get your Great Gatsby glam on with Zara's vintage-inspired Maxi Pearl necklace. www.zara.com
6. Forget the cloth, let your accessories do the colour blocking for you with this geometric necklace. www.anthropologie.com
7. Fashion house Joe Fresh's forte is affordable style. For just $8 why wouldn't you want this? www.joefresh.com
8. Any worldly bookworm would cross the ocean for The New York Times 36 Hours: 125 Weekends in Europe. Luckily, it's sold at your local Anthropologie. www.anthropologie.com
9. This staple ace skirt will take you from work to play all in one day. www.joefresh.com
10. The sandal of the summer: chunky, strappy and printed. Zara's Stretch Combination Print Sandals are just the trick. www.zara.com
11. Stay grounded in Zara's Vamp Glitter Sandal. www.zara.com
12. What better way to welcome spring than a flowery frock with peek-a-boo sleeves? www.zara.com
Read more
Spring is in the air, and Pantone's Fashion Colour Report has you in the know for all the season's hottest new shades. Hopscotch your way through a spectrum of lights and brights.
1. TAKES THE CAKE
Planning a spring wedding? Treat your guests to a lip-smacking creation from I Do! Wedding Cakes. Cake designer Olivia Nguyen knows how to craft a delicacy that's unique to you, making your fete a deliciously memorable one.
www.idoweddingcakes.ca

2. WORDS OF WISDOM
Start your day with a positive kick by cracking open this charming weekly calendar. Stay organized and inspired while planning your 2013 adventures.
www.chapters.indigo.ca
3. HEAD IN THE CLOUDS
Bright and cosy, the Rosette Euro Sham from Anthropologie will infuse your home with energy and bring some warmth to your down time.
www.anthropologie.com
4. BRING THE BLING
Australia's trendiest accessories boutique has pieced together this coral-toned beauty. Reminiscent of the beaches, cocktails and sunsets of summer, it's a piece that'll give you a tropical boost.
www.elkaccessories.com.au
Read more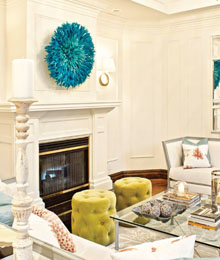 SHADES OF GREY
Nothing contrasts better than a sensual red against a brooding grey. Striking and thought-provoking, designer Kristine Mullaney spills her mind onto her canvases to craft spaces with balance and boldness. www.kristinemullaney.com
SITTING PRETTY
With its pretty, Parisian vibe, this rosy seat can be the cherry on top of your vintage décor scheme. Designed stunningly and textured to perfection, the Souffle Cocktail Chair is as much eye-candy as it is comfortable. www.kellywearstler.com
GET THE SCOOP
Mix up your kitchen creations with these delicious Mosaic Salad Servers. With popping colours and a summery pattern, every salad

you toss with these spoons will give off sunny vibes.
www.shopcaster.com
Read more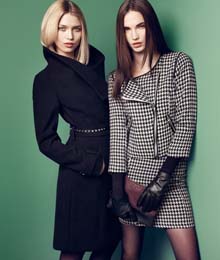 Whether you're standing under the mistletoe or the office glow, these outfits will ensure you're always in the spotlight. One of the perks to imperfect weather is the plush, patterned fashion that tends to trend this time of the year. Add a little spice to your wardrobe with these haute holiday pieces.
1. Zippers, studs and houndstooth coats make the coldest winter months worth it.
www.soakedinluxury.com
2. This beaded miniskirt gives Tinseltown new meaning. An unexpected biker jacket kicks this look into full gear.
www.zara.com
3. Shake up the classic holiday ensemble by sporting a sequined, embroidered cardigan over an oriental print chiffon blouse. Slip into seamed jeans and go get your jollies.
www.zara.com
Read more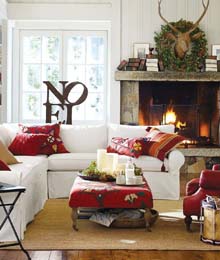 HOLIDAY WISHES FOR HER
1. SIGN ME UP
Sweet, rustic touches like this 'Noel' sign will make your home merry and bright this season.
www.potterybarn.com
2.DANGLING DAZZLES
Don these white coral Angelica earrings for an alluring look.
www.vivre.com
3.SWEET & SWANKY
This platter of luxury chocolates with Swarovski Elements will bewitch your guests.
www.godiva.com
4. BOLD BAUBLES
Cast a spell with these bold and unexpected accessories from Anthropologie.
www.anthropolgie.com
5. HAND CANDY
Find your fancy flair with this baroque-inspired Kotur box clutch.
www.net-a-porter.com
Read more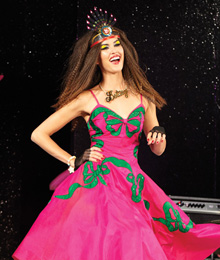 Bursting with fresh colours, bold patterns and striking attitude, Mercedes-Benz Fashion Week in New York rocked the runways and wowed fashion lovers. Vera Wang, Carlos Miele and Naeem Khan brought a flush of culture and colour with Indian-inspired masterpieces; fairy tale couture is making a comeback thanks to designers Oscar de la Renta and Carolina Herrera; and a barrel of hot trends can be chalked up to Betsey Johnson, the queen of fun. The coming months will see a rush of brilliant colours, and fashionistas will play a little truth-or-dare with the upcoming leather and cut-out trends. This trend report promises a season stuffed with fun ways to twist the classics and add personal touches. Here is your chance to glimpse your year's shopping list! Read more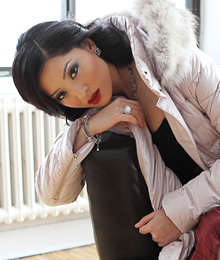 Johnny Yiu Handmade in Canada, Johnny Yiu jackets are filled with goose down to withstand harsh weather. Available in an array of cuts and colours, this fall/winter must-have is cinched with style. www.johnnyyiu.com
Anthropologie Bracelet Designed by Athens-based designer Dimitriadis and handcrafted in Greece, this canary yellow bracelet sparkles with porcelain roses and Swarovski crystals. www.anthropologie.com
Cottonfield From Cottonfield's autumn 2012 collection, this navy blue sweater is a great addition to a fall wardrobe. Wear a plaid shirt underneath to give your look a touch of sophistication. www.iccompanys.com Read more

This quintessential summer shade brings about the freshness we seek on those warm, sunny days. Whether you prefer it in a pretty lace dress, crisp bedding or sexy heels, we've selected a range of ways to be white-hot this summer. Read more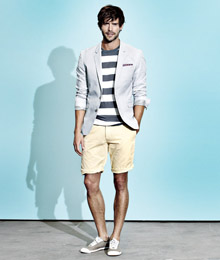 Dress Up
Your little man in a plaid bow tie that's fun for him and classy for you.
www.etsy.com
Heeling Power
You can accomplish anything in these hot pink heels. Pair them with orange or blue for a colour block effect, or with a neutral outfit for a pop of colour.
www.zara.com
Brace Yourself
This sterling silver Scott Kay bracelet is not for the faint-hearted. Show off your wild side with this eye-catching accessory.
www.cupidodesigns.com
Read more
CL: What is at the heart of your label?
MA: Alya Couture is named after my grandmother – it's a tribute to her. She was a seamstress for society weddings and I would always accompany her through the market, looking for beads and all those gorgeous silk fabrics that we have in that part of the world [Jordan]. She taught me little secrets of the trade when I was young. Today, I try to make my gowns and dresses work year-round, and really look for longevity and value. Couture dresses in the past were something that were passed on from your great-grandmother to your grandmother, to your mother and now you, who gets to wear it again. This is what I really try to bring back – things that are very well made and of high-quality.
Read more