In the Long Run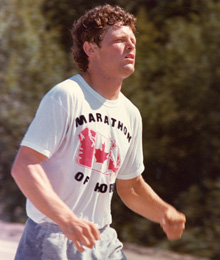 On June 28, 1981, Fred Fox and his family stood by Terry Fox's side as his battle with cancer came to a close. He had been forced to halt his Marathon of Hope when his cancer returned, but he remained hopeful of finishing his journey back home to British Columbia. On that tragic day in June he passed away, leaving a legacy that would inspire millions to carry on his journey to end cancer during the annual Terry Fox Run.
Not one for fame or glory, Terry's mission was never about himself. "He was running all those miles every day — almost an average of a marathon a day — not to be considered a hero or to be famous 32 years later," says his brother Fred. "He just wanted to be out there to do what he could to help other people who would be diagnosed with cancer."
Terry's physical feat grabbed nationwide attention, bonding Canadians in a fight against a disease that the Canadian Cancer Society estimates two out of five Canadians will develop during their lifetimes. Fred is often reminded of the impact of the run when visiting schools across the country and speaking to parents or teachers. "Meeting somebody in our travels that says to you, 'You know, without the Terry Fox Run or without what Terry did in 1980, I might not be alive today,' is pretty special and makes you feel proud that what Terry started in 1980 has actually made a difference," he says.
With over $600 million raised since 1980, and over 8,000 schools participating in the National School Run Day, Fred and his family are deeply honoured. His brother's spirit has been captivating Canadians for the past 32 years, especially in younger generations, where Terry's message resonates. "Terry was just like them," says Fred. "Kids can see Terry as what you can accomplish if you set your mind to it. Work hard, never give up and finish what you start. That's what Terry lived by."
His determination and compassion for others has helped his cause gain countrywide devotees and produced international recognition, with countries such as India and Japan joining in Terry's battle against cancer.
On Sept. 16, 2012, the annual Terry Fox Run will be held across Canada, with the National School Run Day on September 27. This month marks the time when Terry's marathon ended years ago, but it's also the anniversary of when Canadians stepped up to finish his inspiring race in 1981. After all this time we are still running, encouraged by Terry's hope to make a difference and knowing that all these years later, he still is.
Photo By Ed Linkewich and The Terry Fox Foundation