When it comes to staying in shape, most of us go to the gym. Whether it's lifting weights or going for a jog, the benefits of working out result in the maintenance of our muscles as we look and feel good. But if there is one thing people forget about, it's the most important biological structure in the human body – the brain.
We don't realize that there are also ways to exercise the brain, and thanks to a new computer software, it's now easier than ever. Unlike a simple game of a number conundrum like Sudoku, the NeuroActive Program® stimulates more than just a few brain functions. With 22 easy-to-do exercises, users are able to improve 16 separate areas. "Your brain is complex and requires more than playing a crossword puzzle," explains Dr. Stephane Bergeron, the software's developer. "You also want to work on your concentration, reflexes and
auditory memory." Read more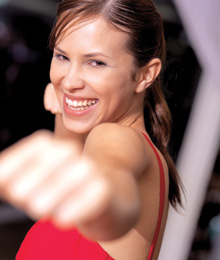 Whether you are just starting out on your fitness journey or you're a seasoned pro, Pure FX Fitness has the right tools to get you into tip-top shape this summer. Since its opening in April 2007, co-owners and fitness specialists Lora Calabro and Andrew Jones shaved off an astonishing 3,775 pounds and 2,358 inches off their devoted members, a true testament to their winning formula.
"Encouragement, motivation and drive are the key elements to staying in shape," explains Calabro. "We make our workout routines pure and simple. We get you results," adds Jones, the lead trainer for the two-storey, state-of-the-art facility. Housing a multitude of different workout regimes from personal training, energizing group classes including spinning classes, power flow yoga, kick boxing, core-a-lates and Zumba®, you can now invigorate your fitness routine with a unique or salsa-infused approach. "We are also very excited to introduce a new and innovative fitness machine that will provide you with a total body workout that cuts your cardio time in half! Feel free to drop in and give it a try!" explains Calabro. Read more