Pure FX Fitness: Giving You The Total Body Treatment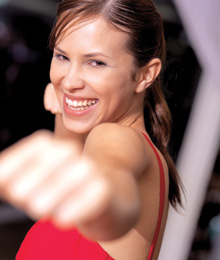 Whether you are just starting out on your fitness journey or you're a seasoned pro, Pure FX Fitness has the right tools to get you into tip-top shape this summer. Since its opening in April 2007, co-owners and fitness specialists Lora Calabro and Andrew Jones shaved off an astonishing 3,775 pounds and 2,358 inches off their devoted members, a true testament to their winning formula.
"Encouragement, motivation and drive are the key elements to staying in shape," explains Calabro. "We make our workout routines pure and simple. We get you results," adds Jones, the lead trainer for the two-storey, state-of-the-art facility. Housing a multitude of different workout regimes from personal training, energizing group classes including spinning classes, power flow yoga, kick boxing, core-a-lates and Zumba®, you can now invigorate your fitness routine with a unique or salsa-infused approach. "We are also very excited to introduce a new and innovative fitness machine that will provide you with a total body workout that cuts your cardio time in half! Feel free to drop in and give it a try!" explains Calabro.
Take care of your spine with help from its on-site chiropractor Dr. Eric Ho, who will ensure that you maintain proper muscle balance (posture, alignment and flexibility). Dr. Ho is a graduate of the Canadian Memorial Chiropractic College (CMCC), where he obtained his doctor of chiropractic and diploma in acupuncture. He also is a certified strength and conditioning specialist. Whether the issue is headaches, sports performance training or a work-related injury, Dr. Ho's positive and high-motivating personality will help patients and clients achieve optimal health. "You have to find what works for you and stick with it. I opened Pure FX because it is my passion and I am just as enthused in making it your passion, too," says Calabro. With a high-energy approach accompanied by dedication and drive, you will become enlightened with inspiration as you shed those winter pounds. www.purefxfitness.com
905.303.9900
10557 Keele St. Suite 1
Vaughan, ON
Dr. Eric Ho
416.529.2003
FITNESS & HEALTH TIPS
• Make sure to warm up for 5 minutes on a treadmill or elliptical before stretching.
• Eat purple grapes instead of white; they have more antioxidants than the lighter ones. Remember: the darker the grape, the better it is for you.
• Drink lots of water. As a rule, you should ingest 1 litre of water for every 50 pounds of your body weight.
– Andrew Jones