"I'm bored of my hair, I'll leave it up to you." These are words owner Nasrin Indravis has heard many times in her 23 years as a professional hairstylist. That's because her clients' trust in her abilities is unprecedented, and her gracious spirit makes them feel right at home. "The best compliment is when my clients are so happy with my work they refer me to a family member or friend," says Indravis, who is certified in permanent makeup.
Housed in a modern yet classical ambience, Nasrin Hairstyling brings creative flair and fast-forward hairstyling techniques to emerging trends – a recipe that ensures you'll be the belle of the ball. Wondering what Indravis defines her success upon, she grins and says: "You have to be a phenomenal hairdresser, but you have to have the personality to match. Who wants to sit in a chair for a colour, cut and blow-dry and be bored Read more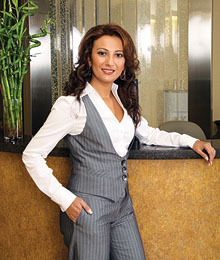 Even a top-notch businesswoman needs some time to herself. Time to rest her head, soak her feet, and let a professional take care of the rest. After a stressful day of meetings and deadlines, a trip to the spa is a haven of tranquility and rejuvenation. But there's no need to break the bank, or venture to the depths of the city, because An Ivy Spa has sprung up just outside your door.
Newly planted this past August, An Ivy Spa has been quickly flourishing into a lush and vibrant hotspot. Named after its lovely owner and trained nurse, Ivy Camelo, this family-operated Read more