A Youthful Bloom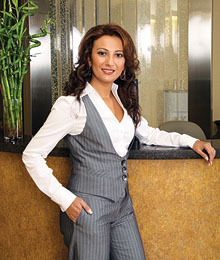 Even a top-notch businesswoman needs some time to herself. Time to rest her head, soak her feet, and let a professional take care of the rest. After a stressful day of meetings and deadlines, a trip to the spa is a haven of tranquility and rejuvenation. But there's no need to break the bank, or venture to the depths of the city, because An Ivy Spa has sprung up just outside your door.
Newly planted this past August, An Ivy Spa has been quickly flourishing into a lush and vibrant hotspot. Named after its lovely owner and trained nurse, Ivy Camelo, this family-operated business is shared with Camelo's partners and skilled estheticians, her mother Libia Lopez, and her aunt Esperanza Lopez. Both affordable and chic, the sweet retreat offers everything you need to escape from the everyday.
Walking into the spa, you are enveloped in warmth, and greeted at the reception desk with a sparkling bubble wall. Then you are shown to your relaxation room, where peaceful melodies melt your worries away while you are treated to any of the spa's bevy of services, including over 10 types of facials, body scrubs, massages, manicures, pedicures, waxing, electrolysis and permanent makeup. Mixing techniques from the Far East and West, "the Jade Stone Massage and Thai Stem Massage are second to none," assures Camelo. An indulging steam bath set in your very own private treatment room follows every massage, which can last up to an hour and a half. Perhaps what is most unique about An Ivy Spa is its commitment to offer all holistic treatments. Camelo ensures that her facials – even those with microdermabrasion – are conducted without the use of any machines, thus offering her clients a safer and gentler alternative with the same incredible results.
With beautiful glowing skin herself, clients often ask Camelo for the secret to her perfect skin. The answer is simple. "Start early and have monthly facials," she advises. "Teens should start taking care of their skin because this is the time when their hormones are changing and they can end up with scarring," she warns. "People think that they can just wait and start worrying about their skin when they're 40, but by then the damage has already been done."
Of course, the right products can make all the difference. It's important to treat your skin to top-quality professional products. An Ivy Spa works exclusively with Germaine de Capuccini, a favourite line of spa-goers all across Europe and Caribbean resorts. "We believe in sticking with one brand," says Camelo. "Products from the same line work as a team offering optimum results."
What's special about An Ivy Spa is the amount of time and care that goes into each of its procedures. Time spent on your skin is longer, yet with prices lower than those of its competitors. "We like to take the time to do our absolute best, we don't like to cut any corners," says Camelo.
So let them take you away … soothe yourself with any of its unique treatments. Whether you go in for any of its incredible massages or a Chocolate, Grape or Coffee wrap, An Ivy Spa promises you an experience that dazzles your senses and revitalizes your mind.