Today's generation has come to expect results that are as effective to our self-confidence as they are efficient to our busy schedules. Specializing in the beauty industry's most innovative skin care systems, The Laser Generation Anti-Aging Clinic stays ahead of the curve with groundbreaking alternatives that not only garner immediate approval, but are also non-invasive. "We strive to offer the best, the latest, the most comfortable and effective treatments to our clients," says Suzie Swica, owner and director of clinical services of The Laser Generation.
Recently joining its impressive collection of rejuvenation and resurfacing treatments is the Icon Aesthetic System and the Acleara Acne Clearing System, two highly advanced treatment platforms from laser research leader Palomar Medical. The Laser Generation is one Read more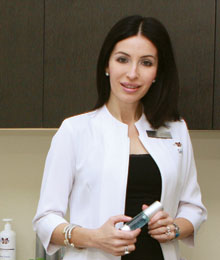 Self-improvement is a movement that's absorbing all age groups in these modern times. Whether it's capitalizing on your brain capacity, playing up your physical strengths or regaining your youthful beauty, individual enhancement is the best way to boost self-esteem. With the help of The Laser Generation, an ageless appearance is finally achievable without plastic surgery and its inconvenient downtime. "When I opened the clinic eight years ago, laser technology was at the forefront of research and innovation in many industries, so we were indeed entering a laser generation," says owner and director of clinical services, Suzie Swica.
Specializing in a number of the industry's most innovative rejuvenation and resurfacing treatments, The Laser Generation provides clients with a stunning environment that rivals the surroundings of a relaxing resort. "In essence, we bridge the gap between spa Read more