The Laser Generation Anti-Aging Clinic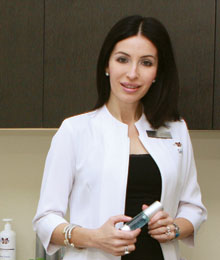 Self-improvement is a movement that's absorbing all age groups in these modern times. Whether it's capitalizing on your brain capacity, playing up your physical strengths or regaining your youthful beauty, individual enhancement is the best way to boost self-esteem. With the help of The Laser Generation, an ageless appearance is finally achievable without plastic surgery and its inconvenient downtime. "When I opened the clinic eight years ago, laser technology was at the forefront of research and innovation in many industries, so we were indeed entering a laser generation," says owner and director of clinical services, Suzie Swica.
Specializing in a number of the industry's most innovative rejuvenation and resurfacing treatments, The Laser Generation provides clients with a stunning environment that rivals the surroundings of a relaxing resort. "In essence, we bridge the gap between spa and plastic surgery," she adds.
In addition to owning and operating The Laser Generation, Swica boasts an impressive roster of beauty industry experience and expertise. As a laser technician who is also certified in nutritional and skin care management, Swica's all-encompassing level of education supports her passion for professional beauty. "We ensure that every client has a great experience and achieves long-lasting results at a competitive price," says Swica, who has 20 years of experience training estheticians and beauty advisors for renowned companies such as L'Oréal and Clarins. "All clients receive the most advanced treatments with utmost care, safety professionalism and discretion in mind."
Some of The Laser Generation's extensive treatments include photo-rejuvenation, fractional resurfacing, laser hair removal, Botox, lip augmentation, dermal fillers, mesolis (mesotherapy), skin peels, microdermabrasion and oxygen facials. These treatments are able to correct fine lines and wrinkles, texture and tone, skin density, facial volume, rosacea, acne scars, overall skin radiance, and so much more. "Many procedures can be done during a clients' lunch hour or on their way home from work. It's also a lot more cost-effective than surgery," says Swica. "We are not simply a laser clinic; we are an Anti-Aging Clinic. Our approach begins from the inside out, using combination therapies from nutritional support to various skin treatments, to topical cosmeceuticals that enhance results."
An abundant and loyal client base is the result of Swica's effective, comfortable practice that surpasses expectations and improves self-confidence. "Ninety per cent of our business is based on referrals from existing clients," she says. To satisfy the demands of a burgeoning clientele, The Laser Generation is expanding its services to include leg vein therapy and registered massage therapy.
905.264.7160
www.thelasergeneration.com
87 B West Creek Drive, Woodbridge, Ont.