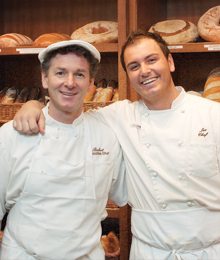 Every celebration has an ending, but not before cake is served. For centuries, baked desserts have served a traditional role in the celebratory landscape – from birthdays and bar mitzvahs to weddings and anniversaries. Yet, cakes have evolved from their conventional role of edible accessories to the main event themselves, reflecting innovation and uniqueness in baking craftsmanship.
Surmounting the pressure that comes with creating good-looking cake is Robert Bozzo, owner and executive chef of St. Phillips Bakery in Maple, Ont. The scent and sight of freshly baked cakes topped with Callebaut chocolate; creamy pastries oozing with chilled cream, festive treats and hot crispy breads has generated crowds of customers yearning for a bite of St. Phillips, a multi-faceted bakery renowned for all things sweet since 1989. Read more
Count on Lawn Creation's lovely little stork to deliver a precious welcoming environment on your dream day. Sprinkling joy across the lawns of party hosts, Lawn Creations' signage can revamp any special occasion of your choice, from birthdays to anniversaries and weddings. If you're the one being invited, thank your host with a bonbon-filled basket of delicious chocolates as a warm greeting gift! Ask for Dina 905.893.9957
PHOTO: Welcome a new addition to your family with Lawn Creation's lovely stork.