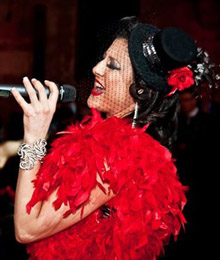 Toronto-based performing arts collective Lady Luck Productions is presenting Hotel Albergo at the Capitol Event Theatre on Sept. 23, 2012. With 15 astonishing dancers, actors, singers, musicians, acrobats and comedians, this will be a show you don't want to miss. Hotel Albergo is an interactive, family-friendly dinner theatre production about an Italian immigrant family trying to save their beloved hotel. Celebrating Toronto's rich Italian culture, the fun-loving production will have audience members laughing out loud. Read more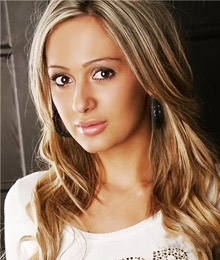 Tragedy has befallen a community member. Anna Leibenko, a 24-year-old Toronto resident, is in a coma in a Croatian hospital, and her family is asking for your help.
While on a European vacation with friends, Leibenko, a former Argonauts cheerleader, had traveled to Croatia for Yacht Week, where she slipped off a catamaran, hitting her head on the boat's ledge and falling three metres into the water bellow. She was transported by helicopter to a hospital in Split, Croatia, where she remains in a coma with brain contusions and facial bone fractures. And the bills are mounting.
When her condition stabilizes, Leibenko will need to be flown by air ambulance back to Toronto. Unfortunately, Leibenko was without travel insurance and her family must now front the staggering Read more
Growing up on a farm in Mildmay near Walkerton, Ont., animals provided food, but also friendship for Luke Albert and his family. With his chickens making good companions, a young Albert disliked the meat on his plate when he thought of his friends on the field. At 14, he decided to switch to vegetarianism, three years ago he became a vegan, and today he holds the position of festival and events coordinator for the Toronto Vegetarian Association.
While his small town didn't have all of the convenient vegetarian options that Toronto offered, he made due with leafy greens and whole grains. Unlike his younger self who often resorted to junk food for sustenance, Albert now looks at healthier alternatives to meat and dairy.
"Once upon a time, if you asked me if I would ever crave tofu I would've said 'no,'" says Albert, whose favourite restaurants now include Fresh and Vegetarian Haven in Toronto. "Things have come a long way and now you crave it like you would any other type of meat."
Desiring tofu is only one of the many changes Albert found in his switch to veganism. As a result of healthier eating and the low-density foods consumed on a vegan diet, Albert lost 80 pounds over the course of a few years and found that he was more energetic in his new lifestyle. "I ran a half marathon a couple of months ago," says Albert, defeating the myth that vegans aren't as athletic as their counterparts.
Justin Elchakieh is also working against this stereotype. A vegan for just over a year now, he has figured out how to stay healthy and fit, frequently working out to increase his strength. While he initially lost weight, doing research and speaking to other vegans in the community helped him discover what was missing from his diet so that he could live a balanced life. By getting a hold of as much information as possible, the transition was a healthy one and easier than expected."I suggest you do a lot of research on veganism," says Elchakieh. "It's very important that you do it properly."
-The Toronto Vegetarian Association reports that a vegetarian diet requires only a half acre of land — that's seven times less than a meat-based diet.

-According to the Food and Agriculture Organization of the United Nations, livestock production accounts for 30% of the entire land surface of the planet and 18% of climate change.

-A study published in the British Medical Journal discovered that vegetarians outlive meat eaters by six years.

– According to the Toronto Vegetarian Association website, a vegetarian/vegan diet lowers the risk of heart disease, many types of cancer, diabetes, high blood pressure, stroke, food poisoning and obesity

– The People for the Ethical Treatment of Animals (PETA) website says research shows cows to be socially complex animals that can hold grudges, develop friendships, form social hierarchies and choose leaders.
For more information on veganism or vegetarianism visit www.veg.ca
With patio season in full bloom, we've found great spots for your best outdoor dining experience yet.
Just Steaks and Funnel Cakes
Whether you're craving salty or sweet, Just Steaks and Funnel Cakes delivers an interesting combination of dishes you'll be hard-pressed to find elsewhere. Try the delicious steak pancetta or customize a funnel cake with homemade frozen yogurt, fresh fruit and chocolate.
www.juststeaks.ca
85 at Hockley Valley Resort
On those too-hot summer days or cool, breezy nights, sink into a wicker seat with a blood orange mimosa or lychee martini on 85's sheltered patio.
www.hockley.com
Le Select Bistro
You'll never know where brunch can take you. Let Le Select Bistro transport you overseas with a patio reminiscent of Paris and savoury dishes like croque-monsieur and pain doré aux pommes.
www.leselect.com
The Boiler House
Enjoy resort-style dining and lounging within the city's limits at The Boiler House. Peruse the tapas menu or enjoy bottle service in the outdoor cabanas for a night of comfort and style.
www.boilerhouse.ca
Archeo
Archeo's flower-filled, cobblestone patio becomes the perfect dining spot when accompanied with a delicious phyllo wrapped brie appetizer and wild mushroom pizza drizzled with truffle oil.
www.archeo.ca
Pure Spirit's Oyster House
Miss the ocean? Forget flying and take a seat on the red brick patio at Pure Spirit's Oyster House. Enjoy the oyster bar and other coastal favourites.
www.purespirits.ca
The Doctor's House
Enjoy beautiful gardens with classic American cuisine on the patio at The Doctor's house. With a history rooted in the Confederation, this restaurant has the perfect touch of old-world charm.
www.thedoctorshouse.ca
Chartreuse
Feel right at home on the back porch of Chartreuse restaurant. Enjoy its country feel over unique favourites, such as smoked duck prosciutto and classic items like veal schnitzel with avocado.
www.chartreuserestaurant.com
Piacere
You'll have a difficult time choosing between gnocchi gorgonzola and zuppa di pesce, but either way, you'll enjoy the scene at this pretty patio.
www.piacere.ca

Ambiyan
Enjoy a warm summer evening with the tastes and aroma of Indian food at Ambiyan. Take a seat on the outdoor patio and start your evening off with samosas before indulging in fragrant butter chicken.
www.ambiyan.com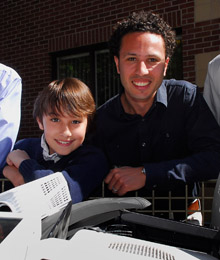 On June 7, 2012, students from the Froebel Education Centre in Mississauga were rewarded a $10,000 technology grant, courtesy of Samsung Hope for Children, for their substantial efforts in the Green Living Show's Passion for E-Recycling School Challenge. In response to this initiative, the 27 elementary-aged kids banded together, gathering an impressive 7,000 pounds of electronic waste (e-waste) in just 10 days. Averaging 261 pounds of e-waste each, more than any of the other participating GTA schools, these children exhibited great strength in small numbers. Read more
The former chief economist of CIBC World Markets talks about his new book The End of Growth.
Q: What compelled you to write The End of Growth?
A: I ended up in my last book arguing that triple-digit oil prices were no accident. It wasn't the result of financial market speculations; it's basically where the demand and supply for oil now rested, and that we would see a return of these prices very early into an economic recovery. And low and behold, that's pretty well what happened. As of, say, January 2011, Brent, which is the world oil price, crossed into triple-digit range, got as high as $127 a barrel, and it's even still today in the triple-digit range. So, what are the consequences of that? I think the basic dilemma is this: we need those kinds of prices to get millions of barrels out of things like tar sands, deep water, oil shale, Brazilian sub-salt, but unfortunately, the very prices that we need to lift oil out of the reserves that it now comes from translates into the same prices that basically kill our economies. Read more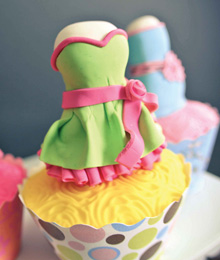 Red velvet, classic vanilla and chocolate are all flavours we're familiar with, but when you venture into one of these boutiques, you'll experience the craze that's hit North America. With a history rooted in the late 18th to early 19th century, the treats aren't new to the sweet scene, but as of late, specialty cupcake shops have been popping up across Toronto and the GTA, prompting competition that has inspired some of the most intriguing of new flavours. From clever options like s'mores and blueberry champagne, we've found Vaughan's most delicious spots to satisfy your cupcake cravings.
We Bake in Heels
A need for change brought two friends together to open We Bake in Heels. With Catherine (Cat) D'Agostino developing recipes, and Adrienne D'Amico handling operations, it's been a match made in cupcake heaven since the shop opened in 2009. "We make Read more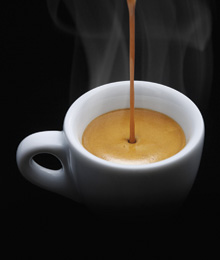 With rich flavour that lingers on your taste buds, espresso is a little cup of heaven. After collecting votes from our loyal readers, we found three well-deserving winners in Vaughan's Best Espresso Bar Contest! Here are three cafés that understand the fine art of making this popular Italian beverage. Check them out next time you want to relax with a delicious coffee and City Life, your favourite magazine!
The New York Giants and the New England Patriots gear up to test their mettle at Super Bowl XLVI. Having previously confronted each other in 2008's Super Bowl XLII, the rematch has fans waiting in anticipation.
Besides the grit and grime of what is considered the biggest sporting event of the year, the Super Bowl also provides a platform of exposure for a multitude of corporations. Millions of dollars are invested in advertising campaigns, promotions, products and apparel, with this year's record-breaking cost for a 30-second commercial on NBC priced at an average of US$3.5 million. Whether you like football or not, an expected 100 million people will be tuning in for the halftime show action, with veteran pop star Madonna performing alongside M.I.A. and Nicki Minaj.
The Patriots, led by the legendary Tom Brady, enter the competition having won 10 straight games, with an overall record of 15-3. The Giants, with quarterback Eli Manning shouldering the outcome, are currently at 12-7 games, with five consecutive victories.
www.superbowl.com
Super Bowl XLVI airs Sunday Feb. 5 at 6:30 EST
On Oct. 12, 2011, Audio One blasted its sleek stereos and opened its showroom doors to loyal customers, suppliers and friends that have shown support through 25 years of success in business. Founding brothers Gino D'Ascanio, Carlo D'Ascanio and Anthony D'Ascanio celebrated their silver anniversary with Read more