Sweets in the City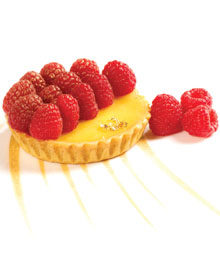 Dolcini by Joseph
In the quaint town of Kleinburg there is a shop of magical delights and fantastic imagination. Filling an historic village with wondrous smells of moist cakes, gooey glazes and mouth-watering treats, Dolcini by Joseph creates decadent desserts with a world-class taste.
As his second bakery, Dolcini by Joseph is the manifestation of Joseph Montinaro's desire to produce artistically beautiful and progressive pastry. After taking over his father's business, West Finch Bakery, he soon became bored with traditional recipes. He journeyed to Europe to explore other baking possibilities. Treated to a whole other world of pastry delights, Montinaro experienced an "explosion of ideas." This new-found inspiration was a key factor in opening Dolcini by Joseph.
"We have a philosophy to be cutting-edge, so we take the opportunity to learn new techniques and ideas from other chefs from around the world, and incorporate that in our pastry," says Montinaro.
Combining extravagant design with phenomenal flavours, Montinaro and his team create an unrivalled culinary experience. An array of colours and tastes blossom through the always fresh, high-quality ingredients Montinaro insists on using. Never satisfied with sticking to a limited range of recipes, Montinaro welcomes new ideas from demanding clientele.
"My clients demand innovative flavours, innovative looks and textures. [They] don't mind paying a few dollars more for the product, but as long as it's top-notch," explains Montinaro. "We focus on a range of products – not just one. Every piece of our work is really done with a lot of passion."
Stimulated by the exciting world around him, Montinaro's passion and creativity materializes in marvellous fashion with truly imaginative, tasty desserts. For an unparalleled eating adventure, treat your palate to the enchanting experience of Dolcini by Joseph. www.dolcini.ca 905.893.5499
10462 Islington Ave., Kleinburg, Ont.
Edible Arrangements
Artistically sculpted fruit and chocolate are arranged in beautiful ways with these fabulously prepared delights from Edible Arrangements. The ideal centrepieces for any social function, these juicy and delicious displays redefine the way fruit is served. www.ediblearrangements.ca 905.738.4100
Alfa Cappuccino
Distributing some of Italy's best espresso and cappuccino products, Alfa Cappuccino has everything you need to brew the perfect cup. With an unbridled passion for coffee, Alfa Cappuccino imports world-renowned blends, including the rich and superb Italian coffee Ionia … il Caffè. www.espresso.com 1.800.764.2532
Molisana Imports
Since 1977, Molisana has been importing the finest foods direct from one of Europe's culinary capitals. Enjoy real pasta, bread, juice and treats from some of Italy's best brands. You can find all Molisana's fabulous imported brands at your local grocery store. For a complete list visit www.molisana.com or call 416.747.8707
Dolce Bombe
For a blast of sweetness in the form of a delicious pastry, look no further than Dolce Bombe. Known for its cream-filled pastries of the same name, Dolce Bombe serves traditional Italian desserts using imported ingredients that will leave your taste buds shell-shocked. 905.265.7841
7611 Pine Valley Dr. Unit 4, Woodbridge, Ont.