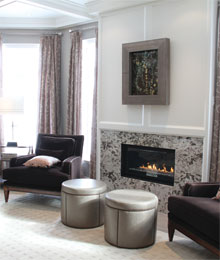 The latest enclave from Beaverhall Homes was officially welcomed by the prestigious community of Woodbridge this past February with a ribbon-cutting ceremony held at its model home on Charmaine Road.
Joining the development firm, interested buyers and city officials to celebrate the arrival of Regency Estates was Vaughan Mayor Maurizio Bevilacqua. "As a city we are very proud of the housing choices we offer our citizens. Regency Estates embodies refinement, class and elegance in the best tradition of Beaverhall Homes. It is a welcome addition to our community," he says.
Developed by Ami Tamam, principal of Beaverhall Homes, Regency Estates reflects the intricacy of a reputable and experienced builder. It shines in his vast portfolio of fine work as an Read more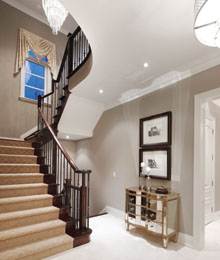 Resting in glorious country settings, an emerging neighbourhood gives way to elegant estate living. Drawing on architectural grandeur and exquisite amenities, the manors of Regency Estates incorporate luxurious achievement with the finest quality materials. An impressive feat developed by builder-extraordinaire Ami Tamam of Beaverhall Homes, Regency Estates boasts an inimitable collection of 34 customized manors built to surpass every shade and gradation of perfection.
Recognizing the hardship of finding the perfect home, Risi guarantees that Regency Estates delivers fine estate living in a coveted community. "The workmanship and care given to Beaverhall Homes' Regency Estates is like getting your custom-built home without the stress." Read more