The Refined Elegance of Regency Estates – Beaverhall Homes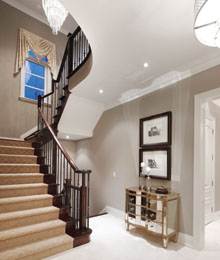 Resting in glorious country settings, an emerging neighbourhood gives way to elegant estate living. Drawing on architectural grandeur and exquisite amenities, the manors of Regency Estates incorporate luxurious achievement with the finest quality materials. An impressive feat developed by builder-extraordinaire Ami Tamam of Beaverhall Homes, Regency Estates boasts an inimitable collection of 34 customized manors built to surpass every shade and gradation of perfection.
Recognizing the hardship of finding the perfect home, Risi guarantees that Regency Estates delivers fine estate living in a coveted community. "The workmanship and care given to Beaverhall Homes' Regency Estates is like getting your custom-built home without the stress."
Endurance and superior craftsmanship is evoked with impressive metalwork, stone accents, graceful curves and oblique rooflines that house harmonious interior beauty.
Oak strip hardwood flooring and flawless porcelain tiles greet you at the door and carry you through awe-inspiring 10 ft. ceilings. A vast foyer gives way to fine-crafted cabinetry, gleaming granite countertops and upper cabinet crown mouldings fashioned to a gourmet kitchen where culinary victory is achieved.
The crown jewel of every Regency Estates manor is the master ensuite. The ultimate in luxury, lavish marble dances across countertops and floors, while rectangular undermount sinks, frameless glass shower stalls and floating tubs sink you into sumptuousness.
The compilation of estate homes are built to perfection with quality in mind. "[Tamam] is a hands-on builder every step of the way, and he is very diverse with his experiences  – everything from high-rise townhouses to single-family dwellings. Tamam pays great attention to quality finishes and builds every home as if it were his own," says Risi.
Exuding a "people-come-first-and-it shows" motto just as Tamam, Risi delivers the best housing options for those looking to settle into sophistication and comfort.
Leading 11 successful Royal LePage ­– Your Community Realty offices across southern Ontario and over 650 realtors, Risi has her finger on the pulse of the housing market.
1.888.9LEPAGE(53-7243)
www.yourcommunityrealty.com
www.beaverhall.com

Q&A with Vivian Risi,
Owner of Royal Le Page – Your Community Realty, Exclusive Broker of Regency Estates
Surpassing expectations with her expertise and flair, Vivian Risi introduces a new way of living for homeowners.
Q What sets Regency Estates apart from other communities?
A Regency Estates is the last infill subdivision in Woodbridge. The quality and workmanship sets it apart. Its location is unique, as it is nested in a county style environment across from Boyd Park, which has walking and riding trails, family picnic areas – all steps away from modern amenities.
Q What kind of experience can homeowners expect from a Beaverhall Home?
A Built with both entertainment and family living requirements, homeowners can experience a luxurious experience with exquisite custom finishings that suit their personal lifestyles. Floor plans are well-designed and modern architecture exudes 10 ft. ceilings. The model home itself is grand and welcoming, with helpful and informative staff on-site.
Q Is location a defining factor of Regency Estates?
A Absolutely. The site itself is a well-known landmark throughout the community. Nestled in one of the highest income brackets in the GTA, Woodbridge is a well-known and prestigious residential community.