Beaverhall Homes Regency Estates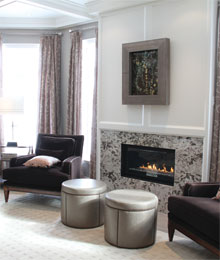 The latest enclave from Beaverhall Homes was officially welcomed by the prestigious community of Woodbridge this past February with a ribbon-cutting ceremony held at its model home on Charmaine Road.
Joining the development firm, interested buyers and city officials to celebrate the arrival of Regency Estates was Vaughan Mayor Maurizio Bevilacqua. "As a city we are very proud of the housing choices we offer our citizens. Regency Estates embodies refinement, class and elegance in the best tradition of Beaverhall Homes. It is a welcome addition to our community," he says.
Developed by Ami Tamam, principal of Beaverhall Homes, Regency Estates reflects the intricacy of a reputable and experienced builder. It shines in his vast portfolio of fine work as an exclusive collection of 34 quality estate manors resting in a coveted west Woodbridge neighbourhood. A rarity in the housing world, the homes are built on deep and wide-sized lots. "Our vision for this property was to design and build magnificent homes. What makes us proud of this project is the response that we've received from the surrounding community. It is a pleasure when the mayor and members of city council express their support for our product and our workmanship," says Tamam.
Making first impressions with graceful curves and stone accents, every Regency Estate manor welcomes homeowners with the award-winning touch of Toronto-based interior design firm Flora Di Menna. Expansive spaces gleam with granite counters, fine-crafted cabinetry, a gourmet kitchen, spacious master ensuites and more, to create the perfect entertainment home for families. "Our homes are filled with superior standard features, which include 10-ft. ceilings on the main floor and nine-foot ceilings on the second and basement levels. We are also very flexible and will allow our homeowners to customize the interiors of their homes to suit their lifestyles – there is no limit on selections," says Tamam.
Across from this emerging neighbourhood sits The Boyd Conservation Area (Boyd Park), a popular picnic destination that offers nearby residents a comforting refuge to reconnect with nature and picturesque views of the Humber River Valley.
No stranger to looking outside the box, Tamam has built everything from custom manors to affordable starter homes and high-rise condominiums across the GTA and southern Ontario. All told, thousands of people live in Tamam's developments.
www.beaverhall.com
For sale inquiries, please contact: info.regencyestates@rogers.com
905.265.2634