Taking Control of Your Home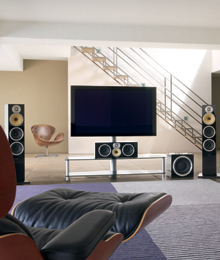 Innovations in modern home entertainment provide a plethora of possibilities for families to enjoy their media however they see fit. Although fascinating, today's technology can be the source of much confusion. Celebrating 25 years of home audio/video experience, who better than the experts at Audio One to provide valuable insights into how new technologies are creating exciting prospects for household entertainment.
"Home entertainment is becoming so customizable it's no longer a question of, 'what can I do with this room, but rather, 'what do you want to be able to do in this room?'" says Gino D'Ascanio, home audio/video specialist and partner at Audio One.
With extensive expertise in high-calibre home theatre and music systems, the team at Audio One is well aware of the latest trends in home electronics. One of these leanings is a buzzing industry catchphrase: Internet-enabled TV.
Manufacturers like Panasonic and Samsung are now fitting TVs with the capability to directly surf and stream online content, like music and movies, straight through your big screen. "It means individuals can access websites like Facebook, Youtube or Netflix, right from their television," says Anthony D'Ascanio, brother and partner at Audio One. "Some of them even have built-in web browsers." You might start kissing your DVD collection goodbye with all that digital content at your fingertips.
But what's video without the audio to back it up? Audio One may house a range of high-quality surround sound audio systems that will have your home theatre pumping, but multi-room music systems are what's really electrifying. A single system powers a multitude of speakers throughout the home so you can rock your tunes anywhere. More sophisticated systems even allow separate music sources to play in different rooms at the same time.
"The good news is that wireless music systems from companies like Sonos are affordable and easy to set-up," says Carlo D'Ascanio, the third brother and partner at Audio One. "It's really amazing how much more you enjoy music when you have the choice to listen to and control it anywhere in the home." Let your daughter dance to Bieber in the living room while you enjoy The Beatles in your home office, all through a single audio system, a beautiful thing.
All these enhancements are spectacular ways of customizing your home entertainment, but to fully master your domain, you'll require control; and what better way than through a home automation system. As Gino explains, "Control systems for homes are becoming more and more mainstream. Through a single keypad you can control your home's audio, televisions, lighting, security, climate control, and more."
Once reserved for the affluent, home automation is becoming far more affordable and increasingly smarter. These systems put the power in the homeowner's hands, and companies like Creston and Control 4 even have downloadable apps for iPads and other tablets for wireless use.
Interestingly enough, lighting control is one of the key features driving home automation, as Anthony adds, "A lot of people come looking for home automation as much for the lighting control as the audio/video." Apart from eliminating "wall scar" caused by light switches, home automation systems have a simple pre-set feature, allowing homeowners to adjust their lighting's intensity at the push of a button. Hosting a dinner? Pre-set a party mode and slightly dim the lights to an intimate level. This feature also makes home automation a great green alternative as you can lessen your light's strength, helping to save money on energy bills.
All these technological possibilities may seem overwhelming and complicated, but Audio One is more than just a specialty retailer of high-calibre home audio and video systems. Their knowledgeable staff includes programmers, network/IT specialists and designers to coordinate a home entertainment plan that not only fits your budget but reaches the epitome of performance. "We will, from start-to-finish, work with the client on the system they want, show them all their options, design the system, wire it, set it up – the whole nine yards," says Carlo. Their impressive showroom includes multiple demonstration rooms that allow customers to "audition" various set-ups to find a system that suits their taste.
For more on the latest trends in home entertainment, stop by Audio One's Vaughan location or check out their website.
www.audio-one.ca 416.665.0749