Kim Cattrall and The City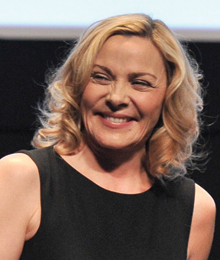 In the dusk of Toronto's King Street West, the TIFF Bell Lightbox stands aglow as guests hurry in from the cold and into a packed auditorium. The impending event emits a palpable energy that runs between every cushioned seat of the Allan Slaight playhouse.
Within moments, a rapturous applause announces the arrival of Kim Cattrall, who at 55, is no less radiant than when she first began acting as a teenager. She joins the evening's "In Conversation With … Kim Cattrall" host and CBC senior business correspondent Amanda Lang onstage to partake in a tribute to her career co-presented by TIFF and the Canadian Film Centre. The crowd is soon eating from the palm of her manicured hands. "I can't believe we're going to do this in such a short amount of time – I've had such a long, long career," she says with a laugh. "And I remember every single moment." Through conversation, photographs and film clips, the career of Cattrall moves between the lines of a girl motivated by theatre and a woman looking to free herself from her sex symbol status.
For Cattrall, a door in the room of her life first opened when her great aunt took her to see As You Like It. "I think it happened when I was 10. That's when I got the tingling for it," says the British-born, Canadian-raised actress. The Shakespearean classic certainly inspired a thespian calling in Cattrall, who recently concluded her Toronto run of Noël Coward's Private Lives at the Royal Alexandra Theatre. She readily admits to being covered in stage makeup to mask the bruises she's acquired playing Amanda, a role considered a departure from the insatiable Samantha Jones of Sex and the City. "Actors find their voice in film. I always had a voice in theatre," says the classically trained stage actress. The Richard Eyre revival of the romantic comedy was a hit at The Vaudeville Theatre in London, and is now playing at New York's Broadway theatre.
Dressed demurely in a black sheath dress and turquoise pumps, Cattrall looks down and squints her eyes bashfully after a clip from the 1980s romantic comedy Mannequin has her dream girl character, Emmy, sashaying across a gleaming department store in clothes that reveal her younger figure. While a tinge of proud sadness settles across her face, Cattrall effervesces with the kind of confidence that can only be achieved through age and experience. "A lot of things go through your mind … your youth, the fashion, it's bittersweet."
The conversation between Cattrall and Lang unfolds effortlessly over the hour, carried by Cattrall's earliest forays into acting. After leaving Canada to live in New York on her own at 16, she was cast in Otto Preminger's Rosebud. Other films include Porky's and Star Trek VI: The Undiscovered Country. But her film career never mired her passion for the stage, having starred in theatrical productions over the years that include Anton Chekhov's Wild Honey. "Acting was about community – not stardom," says Cattrall, who describes herself as an introvert hiding behind her characters.
While a part of her misses playing the role of such a bold character in the Sex and the City series and its corresponding movies, Cattrall hopes to break free from the perception that her talent doesn't get deeper than the designer-wearing, man-eating part that shot her to stardom. The versatile actress recently peeled off the haute couture and makeup and gained weight for her performance in Meet Monica Velour, where she plays a veteran porn star living in a trailer. "The role frightened me," says Cattrall. "It was the underbelly of sexuality … and I wanted to explore that. My objective was to give Monica dignity."
Among the private moments of her life, Cattrall recalls a night in Toronto from her past, where she was co-starring in a movie with Jack Lemmon. "I asked him, how do you get longevity? And he answered: 'Continue to take things that scare you and challenge you.' And I think that's been the secret for me."