When the weather is warm, the last thing you want to see is your children staring at a screen. But with one parent working late and the other taking the oldest to soccer practice, bringing the family together can be trying. Canadian summers are short, so get the family together to enjoy your home's outdoor space with a swimming pool from GR Pools.
"For children, it's a source of fun, no doubt about it," says Carlo Riccardi, co-owner of GR Pools. With years of experience, he recognizes the liberating transformation felt by customers once they start splashing around in their new backyard oasis. "Once you fix your backyard properly with a nice pool, you'll find that you'll be spending a lot of time in the backyard. It definitely brings the family closer together."
Read more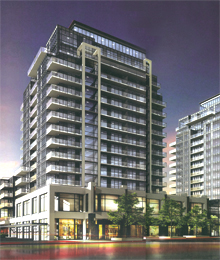 In all its beauty and enterprise, a looking-glass luxury in the heart of Richmond Hill rises to the expectations of its name. The Grand Genesis is a soaring venture, where groundbreaking features have interested buyers enraptured; and crystal-clear views of a transforming city below take luxury towards a limitless sky of possibility. "We are born with one name and I have put mine on this project," says Stefano Guizzetti. The president and founder of the long-established real estate and development firm Guizzetti Developments Inc. partners with Holborn Developments Inc. to bring the height of glass couture to the community of Richmond Hill.
Like a champagne flute overflowing with celebration, a gleaming façade of glass encases exquisite interior design of imported granite and marble-polished surfaces, top-of-the-line amenities and spacious suites. Future residents are welcomed with a Read more