The Grand Genesis Rising to the Occasion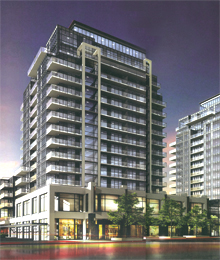 In all its beauty and enterprise, a looking-glass luxury in the heart of Richmond Hill rises to the expectations of its name. The Grand Genesis is a soaring venture, where groundbreaking features have interested buyers enraptured; and crystal-clear views of a transforming city below take luxury towards a limitless sky of possibility. "We are born with one name and I have put mine on this project," says Stefano Guizzetti. The president and founder of the long-established real estate and development firm Guizzetti Developments Inc. partners with Holborn Developments Inc. to bring the height of glass couture to the community of Richmond Hill.
Like a champagne flute overflowing with celebration, a gleaming façade of glass encases exquisite interior design of imported granite and marble-polished surfaces, top-of-the-line amenities and spacious suites. Future residents are welcomed with a European approach to lifestyle, grand with a swimming pool, an outdoor terrace, a state-of-the-art gym, harmonious winter garden and waterfall to wash away hectic days. In a world fraught with global warming, the Grand Genesis stands tall in its environmental endeavours as a Gold-certified building in The Leadership in Energy and Environmental Design (LEED) Green Building Rating System.
With its sheer glass design reflecting modernism in the best of light, the Grand Genesis towers revolutionize the way we ought to live. www.grandgenesis.com
Grand Genesis is currently in its registration phase. For more information, please call 289.597.5200 or visit the presentation centre at 9076 Yonge St. south of 16th Ave.