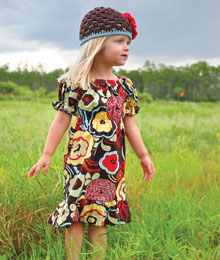 Help your little ones show off their individuality, creativity and style with some items they'll enjoy using just as much as you'll enjoy finding them here.
1. This John Deere fabric crayon roll will help prevent your kids' crayons from getting broken or lost. www.etsy.com
2. Get your little girl ready for a play date or outing with mommy and daddy by putting her in this cute peasant dress. www.etsy.com
3. Bring the beauty of the outdoors in with this cherry blossom tree wall sticker decal art that is colour customizable. www.etsy.com
4. Help your young ones get used to telling time with these cool, artistic timepieces wrapped around their little wrists. Read more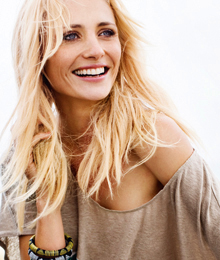 Simplicity with a splash of blooming accessories goes a long way. This sizzling season embraces a relaxed look in lightweight apparel with highlights in footwear, jewelry and handbags. Spice up your summer wardrobe with any of these must-have pieces.
Dress to Impress
Mellow yellows never get old. This classic cut halter dress is a perfect piece for a summer picnic or with some ice cream in the park. www.dynamite.ca
Jackpot
Get sun-kissed in the Bianna top by Jackpot. Wear this loose asymmetrical linen nude with graphic floral as a cute cover-up on the beach. www.iccompanys.com Read more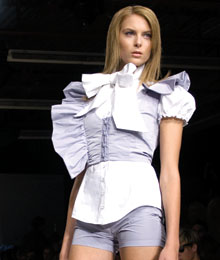 Some of the fashion industry's top designers flocked to Toronto for LG Fashion Week last fall to showcase their Spring 2010 collections. Among them was Project Runway Canada's season two finalist Jason Meyers, who wowed a fashion-infatuated audience with fresh colours and cutting-edge designs. "I really try to design with the aspects of timeless and edgy," says the Hamilton born designer, who had his own tailor as a teenager.
Nothing looks better on a man than a sophisticated, impeccably fitting suit. Housing a plethora of styles, from fashion-forward chic to traditional favourites, Mondo Uomo owner Salvatore Greco knows this better than anyone else. With nearly 25 years of first-hand experience in men's formal wear, this fashion connoisseur will style you famous for whatever occasion you're attending.
With its contemporary formalwear line boasting designer fashion from Ermenegildo Zegna, Dolce & Gabbana, Just Cavalli, Thierry Mugler, Kenneth Cole and Hugo Boss, finding the suit of your dreams might be a challenge. "Planning a wedding can be a very stressful time," acknowledges Greco. "Because we recognize that, we are here to help you each step of the way. A fashion consultant will come to your home the morning of your wedding day to ensure you are camera-ready," adds Greco. Read more