Jason Meyers Wows Fashion Week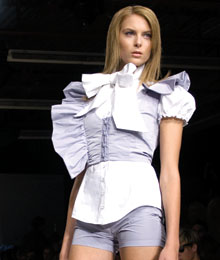 Some of the fashion industry's top designers flocked to Toronto for LG Fashion Week last fall to showcase their Spring 2010 collections. Among them was Project Runway Canada's season two finalist Jason Meyers, who wowed a fashion-infatuated audience with fresh colours and cutting-edge designs. "I really try to design with the aspects of timeless and edgy," says the Hamilton born designer, who had his own tailor as a teenager.
1. Slip on a pair of Bruno Frisoni's purple suede opentoe booties, to punch up a sleek dress. www.vivre.com
2. A perfect gift, this Bluetooth headset, cheekily called PinkTooth, is encrusted with Swarovski crystals and is packaged in a couture 'candy' tin. www.chicbuds.com
3. Jason Meyers debuted this futuristic magenta dress with peek-a-boo shoulders during Toronto's LG Fashion Week. www.jasonmeyers.net
4. An exaggerated one-sided ruffle adds dimension and flair to this fitted silver mini-dress from Jason Meyers' Spring/Summer 2010 collection. www.jasonmeyers.net
5. Jacob's black demi pad bra is a great way to look and feel sexy this Valentines day. Soft lace patterns and a corseted centre add sensuality to this sensible undergarment.
www.jacob.ca
6. Feathers flock back to the runway this year. This graphic tee from Jacob looks great with jeans and a cardigan.
www.jacob.ca
7. Canada's Next Top Model winner Meaghan Waller walks the runway wearing one of Jason Meyers' ruffled numbers at LG Toronto Fashion Week.
8. Wrap this Kara Ross python rhodium cuff around your wrist to complement any outfit. Liven up a soft, subdued look or add a little extra to something that is already vibrant.
www.vivre.com
9. This intricate Jason Meyers Bolero Jacket – made from a wrinkle-free linen material – meets its match with a black high-waist skinny pant.
www.jasonmeyers.net
10. Be the one that sparkles at all of your upcoming parties with one of Quo's assorted high-glitter liners.
www.quo.ca
11. Enjoy the classic charm of this '40s-inspired ring from Pianegonda's Twisty collection. This silver-plated rhodium piece interchanges polished surfaces and diamond cut.
www.cupidodesigns.com