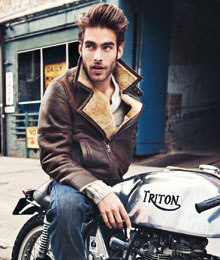 Scan through this hit list to find some fashions you'll fall for.
Zip yourself up in this rugged but classic leather jacket. www.matinique.com
Keep track of the time and on top of autumn fashions with this large faced watch with an adjustable band. www.aldoshoes.com
The military look is hot this season, so prepare for combat in this stylish necklace. www.aldoshoes.com
Try on this modern take on the trench coat. It's lightweight but will still keep you warm. www.matinique.com
Mix and match between a solid button-up shirt with a fun sweater or blazer for an overall sharp look. Read more
As the temperatures quickly drop, invest in warm and lavish outerwear pieces that wrap you in stylish protection from the cold. Scour Bengiamini Furs' luxurious selections to find rich European leathers and furs. "The first clothing worn by human beings was fur and leather," says sales manager Olga Broock. "This is a tradition that is as old as mankind," she adds.
Owners of Bengiamini Furs, the Petersen family hails from Denmark where for decades they flourished in the fur industry as manufacturers. "The store is for anybody who likes good quality, fashionable products," notes Broock. Pieces adorned in luscious furs like mink, fox, sable and chinchilla are offered, as are leather and shearling items. "Our products are natural and they let you breathe." Read more
The Simone Family, founders and buyers of Martin Daniel Interiors, continue to introduce new and exciting collections. Vita Moderna features exotic woods, lacquer finishes, glass and metal accented with unique and vibrant fabrics, leather and accessories. This exclusive collection, 100 per cent Made In Italy, creates a smooth and chic look for your home. Also enjoy many new introductions displayed in the entire showroom. 2663 Steeles Ave W. www.martindanielinteriors.com
We are what we do, said a wise Aristotle; so let's acquaint ourselves with the consequences of our existence. Navigate through the environmental calamities affecting our world and discover the impenetrable connection between the planet's poor health and how we choose to live. Read more