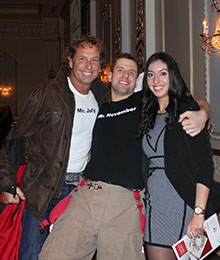 Held at Vaughan's Venetian Banquet Hall,
The third Annual Girls' Night Out Gala turned up the heat on 300 guests at Vaughan's Venetian Banquet Hall in support of The Princess Margaret Cancer Foundation's Fire Fighter's Cancer Research Fund. The first 200 guests were handed a steamy 2013 firefighter calendar before erupting into a frenzy fueled by a thrilling gala raffle and entertaining floor show featuring classically trained viloinist Grenville Pinto and the Toronto Fire Fighters. Since its inception, the event has raised over $10,000
Held at the Paramount Event and Conference Centre in Vaughan,
Hollywood fitness guru Richard Simmons, The Pointer Sisters and the Magan Boys entertained the young stars of tomorrow at the second annual Dance to Conquer Cancer — Disco Days and Boogie Nights. Held at the Paramount Event and Conference Centre in Vaughan, the event raised over $450,000 to benefi t cancer research at Princess Margaret Cancer Centre. Students over the age of 12 broke out into 70 teams and danced the day away as Paul Alofs, president and CEO of their efforts. Participants danced 10,000 steps in support of cancer research funding before enjoying a delicious dinner and incredible
Held at King Street West's Forget About It Supper Club,
A Night In Red's Ducati-themed charity event for the Hospital for Sick Children, organized by Rev It Up Foundation, brought out best in guests, sponsors and volunteers who raised $25,000. DJ Mario "Figs" set the soundtrack for a high-spirited evening of generosity. Driven to make a difference, Rev It Up Foundation also proudly announced a long-term $500,000 commitment to SickKids which will be used to purchase leading-edge equipment for the hospital's cardiology fl oor. Rev It Up For SickKids' annual ride will be held in July.
From winter blues to hot new hues, Amado Salon has the latest tools to revitalize your tresses — just in time for spring. "This season is all about renewal," says creative director Robert Amado, a veteran in the industry with close to 15 years of experience.
Since opening Amado Salon four years ago, the colour expert has become a fixture in Kleinburg's hair scene, receiving praise from clients that keep going back to the award-winning salon. And it's easy to see why.
The full-service parlour boasts a bevy of personalized options, from colour and highlights, precision-cut styles and glossy treatments for an everyday look or any special occasion. Keratin and shea butter hair therapy and organic hair care products will restore your hair's lustrous glow, as a spectrum of professional hair dye replenishes and enriches. Complementing every type of lifestyle with eco-friendly, ammonia-free colours from Nectaya or Elumen's creative colours, Amado Salon holds the key to gorgeous hair. "If there's ever a time to get a fresh new look," says Amado, "it's now."
Read more
Q: What inspired you to be a photographer?
A: I remember as a child seeing an enlargement of the very famous photograph by Robert Doisneau, "Le Baiser de L'hôtel de Ville". Even then I was struck by the blend of reality and art that photography could produce. From that point on I was always searching for the magic in imagery that could tie together the experience with the esthetic. I'm fortunate that now I can bring my own expression of this phenomenon as a working photographer.
Q: What did your parents teach you about life?
A: My family has always been very supportive of my at times erratic choices in life. They encouraged me from a young age to pursue what fulfilled me and made me happy. I'm paraphrasing, but my father told me that "Each person is innately great at something" and I extrapolated from that finding. Pursuing that core ability is the purpose of a successful life.
Q: As a photographer, what message were you hoping to capture while photographing spoken word poet Shane Koyczan?
A: I was hoping to portray a number of things from my shoot with Shane. Primarily I wanted to show that he and his message could be a source for change, but I also wanted to show the character that was behind such powerful and emotional work. I chose to shoot him in a neutral studio setting so as to remove the distractions of stage and performance that are normally associated with him and bring his character, rather than his stage presence, to attention.
Read more
Victorian chairs, vintage chandeliers, antique ottomans, stainless steel sinks, sliding doors and stylish textiles fill the aisles of Habitat for Humanity's Vaughan ReStore. A haven for homeowners in the midst of renovating, a playground for value hunters and a source of revenue for one of York Region's most transformative not-for-profit organizations is breaking ground with its resourceful retail concept.
"It's an amazing success story all around and the ReStore is a big part of it," says Habitat for Humanity York Region's newly appointed executive director Tom Vegh. By selling pre-loved home improvement goods, furniture, flooring, home accessories, lighting and appliances at a fraction of the retail price, Habitat for Humanity's York Region ReStore outlets have been serving the public, preserving the environment and saving savvy shoppers money.
"We can't build homes without this," says Bryon Disera, operations manager of York Region ReStores. With an annual revenue stream of approximately $1.2 million, the Vaughan and Newmarket locations offset Habitat's administration expenses, so 100 per cent of local benefactions can go directly towards its successful homebuilding program. "It ends the cycle of poverty and gets families and their children out of unsafe situations and into safe affordable home ownership," he adds.
Read more
1. BROOKLYN'S FINEST
Discover a new sense of style with the modern and comfort-seeking Brooklyn Home Décor Collection.
www.geovin.com
2. AS LUCK WOOD HAVE IT
The Domicile Stool adds elegance and luxury to your home environment.
www.elte.com
3. A FULL PLATE
The Turquoise Cambria Dinnerware collection brings warmth and appetizing ambiance to every family dinner table.
www.potterybarn.com
4. NATURAL BEAUTY
Set the stage for the outdoor season with the Palmetto All-Weather Wicker Rounded collection.
www.potterybarn.com
5. UNDER MY UMBRELLA
Add comfort to your outdoor oasis with the Chatham Chaise Outdoor backyard collection.
www.potterybarn.com
Read more
1. The orange extract and gentle micro beads in Clarins' One-Step Gentle Exfoliating Cleanser give bright results
2. With sunny days ahead, Jergens 3 Days to Glow Moisturizer enhances your skin with natural-looking colour in no time
3. Darphin's Youthful Radiance Camellia mask boosts radiance, plumps lines and firms your complexion with a deliciously rich texture
4. Combining cellulite-blasting ingredients for visible, lasting results, Biotherm's Celluli Eraser slimming gel replaces unsightly dimples with a firm, toned physique
5. Hung over with a pain in your neck? BareMinerals Naturally Luminous Extra Firming Neck Cream lifts lax skin as it moisturizes against environmental stressors
6. Like a blooming bouquet of creamy-pink flowers, L'Occitane's Magnolia & Mûre Body Lotion quenches dry skin with a tender, sexy scent
7. Who says you can't work while you sleep. Active ingredients in The Youth As We Know It Anti-Aging Night Cream by Bliss iron out wrinkly nightmares for a bright, youthful complexion
Read more
FULL HOUSE
It may not be the Canadian snowbird experience you envisioned, but this San Fran suite spot proffers unlikely perks you won't find bathing under a Floridian sun. If south-of-the-border real estate is on your shopping list, the Fairmont Heritage Place, Ghirardelli Square, should certainly be circled on your short list. Just a block away from San Francisco Bay and a 10-minute drive from the Golden Gate Bridge, this heritage site in the heart of a cultural hub offers a unique opportunity for fractional ownership. Starting at $169,000, these luxurious residences perched in a formerly famous chocolate factory can be shared by second-home seekers with taste.
www.fairmontheritageplace.com
Read more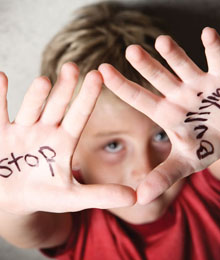 Q: How does bullying impact one's self-esteem?
A: It's not so much self-esteem but self-control. It's how you see yourself relating to others. There are kids that think there's no harm done — I didn't hit anybody; all I did was tell them that if they don't do this, I am going to come back and do something to them. It's those types of threats, or through social networks, that are effective ways to get people to do what you want. These are not appropriate ways.

Q: Can adults bullied in school move past the childhood pain to lead healthy lives?
A: Not all do. Some might say that it's had a lifelong affect on them. Others will say that they remember it but it didn't have an affect on them in the sense that it's pretty common and I just have to grow out of it. Let's say bullying happened in Grade 3 for three months — it affected you and made you feel uncomfortable for quite some time, especially in different situations. Eventually, it didn't reoccur and you feel pretty confident you're on a good track again. A lot of people will say that they were victims of bullying but it didn't affect them because it doesn't affect everyone in the same way or have a lifelong consequence. Others will say it happened in Grade 3 and then when I went to middle school, the same kid started it again, and it continued into high school. Unless they get help and talk to someone about it, it's not easy to overcome that feeling of being victimized.