Mercedes-Benz Fashion Week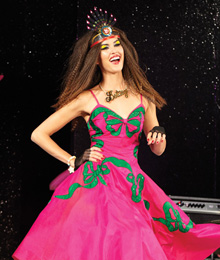 Bursting with fresh colours, bold patterns and striking attitude, Mercedes-Benz Fashion Week in New York rocked the runways and wowed fashion lovers. Vera Wang, Carlos Miele and Naeem Khan brought a flush of culture and colour with Indian-inspired masterpieces; fairy tale couture is making a comeback thanks to designers Oscar de la Renta and Carolina Herrera; and a barrel of hot trends can be chalked up to Betsey Johnson, the queen of fun. The coming months will see a rush of brilliant colours, and fashionistas will play a little truth-or-dare with the upcoming leather and cut-out trends. This trend report promises a season stuffed with fun ways to twist the classics and add personal touches. Here is your chance to glimpse your year's shopping list!

1. POP ART Bright and bubbly, these vivid designs from Betsey Johnson's latest collection rocked the runway.
2. THE WHITE WAY Cushnie et Ochs added a taste of simplistic elegance to the runway with a line of crisp, white pieces.
3. STRIKE A POSE Thanks to Maybelline, the models at this year's New York Fashion Week were painted to perfection.
4. FAB FABRICS Custo Barcelona brought a taste of foreign culture with their unique textures, artsy touches and eye-catching designs.
5. GETTING LIPPY With oodles of lipsticks, mascaras and eyeshadows stacked all over, the behind-the-scenes of every fashion show was a makeup lover's wonderland.
6. SHARIN' AND KARAN Donna Karan of DKNY shares a smile backstage at her fresh, youthful fashion show.
7. SWEET AS HONEY Designer Carlos Miele poses with singer-songwriter, dancer and TV personality Paula Abdul, who attended his fashion show.
8. MODEL MANIA These Miele models rocked two of the designer's latest masterpieces, both sporting luxurious fabrics and luxe details.
9. EYE CANDY The mascara tubes, lipsticks and other makeup tools used on the models were almost as vibrant as the clothing at Fashion Week.
10. WONDER-MINT This glimmering mint-green piece may be simple, but it takes the stage with its breathtaking texture and becoming shade.
11. SHE BOPS Acclaimed "Girls Just Want to Have Fun" and "She Bop" singer Cyndi Lauper performs before the Betsey Johnson fashion show.
12. ROLE MODELS The Maybelline New York hostesses stand at the ready in the Lincoln Center, where guests can take advantage of a makeup consultation booth, phone recharge stations and more.
13. SNOW WHITES Cushnie et Ochs models bring a breath of fresh air down the runway with a selection of pure white gowns.
14. RETRO-SPECS A Mara Hoffman model sports a pair of '70s-inspired shades, showing off the line's classic, cool vibe.
15. ALL DOLLED up The glossy, geometric makeup palates used on Betsey Johnson's models contrasted beautifully with the frilly, fun designs they wore.
16. ZOE COOL Rachel Zoe shows off one of the key elements of her latest line: the ever-trendy panama hat.
17. BETSEY FOR LAST Designer Betsey Johnson's grand entrance concluded her show as she let her quirky, fearless personality sparkle.
18. CUT-OUT QUEEN This purple gown by Cushnie et Ochs serves up one of 2013's hottest trends: cut-out fashion.
19. FRESH FACE To match the chic, laid-back feel of Rachel Zoe's designs, natural and humble primping took place behind the scenes of her fashion show. 20. COLOUR CRAZE A rainbow of nail polishes complement the simple, classic colour palate at the Cushnie et Ochs fashion show.
21. ANTICI-FASHION A rack of whimsically patterned Mara Hoffman garments waits to be adorned and strutted down the runway.
22. MODA DI BARCELLONA Flown in from Italy, Custo Barcelona stands out among the crowds of styles with their punchy, quirky and cultured designs.
23. BRINGING ATTITUDE Rachel Zoe's sweet, classic designs will complement any personality.
Photos by Maybelline New York