House Rules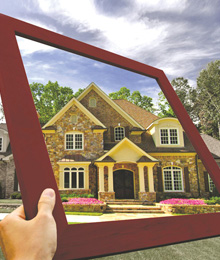 Maximum Amortization Period Maximum amortization has been reduced from 30 years to 25 years
What does this mean? It's the third time amortizations have been slashed in just four years. Canadians saw a decrease from 40 to 35 years in 2008. Then, in January 2011, they were reduced again, down to 30 years max. Finally, we are back at 25 years as it was in 2003.
A lower amortization period will mean a slight increase in monthly payments; however, a substantial decrease in the amount of interest paid over the life of the mortgage. Keep in mind that the increased challenge of affordability will only be felt by those who are looking for a 30-year amortization who have less than a 20 per cent down payment. Conventional mortgages will still be offered on a 30-year basis.
Refinance Maximum Loan to Value The maximum loan to value for 1 – 4 unit residential properties will be reduced from 85% to 80%
What does this mean? Capping the maximum loan to value (LTV) on a refinance at 80 per cent will ensure that home equity remains at a healthy level, and hopefully assists with keeping consumer debt levels under control. Decreasing the LTV on a refinance will also save consumers on Canada Mortgage and Housing Corporation (CMHC) insurance premiums.
Maximum Debt Service Ratio Limits For clients with beacon scores less than 680:
• The maximum Gross Debt Service ratio (GDS) cannot exceed 35%
• The Total Debt Service (TDS) cannot exceed 42%
What does this mean? Lowering the GDSR and TDSR will prevent Canadians from overextending themselves, and hopefully reduce the number of financially vulnerable households on the market.
Introducing a new Maximum Purchase Price The maximum purchase price or as-improved value for purchase-plus improvement loans cannot exceed $999,999.99 (must be less than $1 million)
What does this mean? That there will no longer be CMHC for million-dollar homes. With this new rule, houses that sell for over $1 million will no longer qualify for CMHC insurance. If you are purchasing a house in that price range, you will require at least 20 per cent as a down payment.
Overview
In the fourth quarter of 2011, Canadian household debt to income hit a high of 152 per cent. In a June news release, Jim Flaherty, minister of finance, stated: "The adjustments we are making today will help them realize their goals, build on the previous measures we have introduced to keep the housing market strong, and help to ensure households do not become overextended." The purpose of these new rules is simply to control the flow of credit and consumer spending — however, the question remains, will it really achieve this goal?
Buying power is still in the hands of Canadian homeowners, and this revision in regulations simply results in acquiring a home that you can better afford. While transitioning from a seller's market into a more balanced market, home prices are expected to level out and rates are predicted to stay low until mid 2013. This means that Canadians will be in a powerful position to build equity in their homes.
In order to ensure that you are taken care of by these new announcements, I encourage you to contact our office and speak directly to our mortgage professionals.
---
Cristina Piccirillo is an experienced mortgage broker at Dominion Lending Centres' YBM Group. Piccirillo takes pride in educating clients about one of the most important decisions of their lives. Visit her new location in the heart of Woodbridge for all of your mortgage needs: 281 Woodbridge Ave., on the southeast corner of Kipling and Woodbridge avenues.
905.605.LEND (5363)
www.cristinapiccirillo.ca