How does the Holiday Season Inspire You?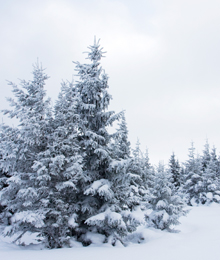 1. Michelle Zerillo-Sosa, Editor-In-Chief/Publisher Festive songs, lights and the cheery moods of people bring serenity to my life. I find myself wishing for this feeling to last past the Holidays.
2. Angela Palmieri-Zerillo, Director Of Operations I'm inspired to give – not just material things – but to give more of myself and my time. I want to instill these virtues in my children while minimizing the emphasis on receiving gifts. We are so blessed, and I want my kids to be grateful for that!
3. Fernando Zerillo, Creative Director Family is so important. I enjoy being surrounded by the ones I love during Christmas. There is nowhere else I'd rather be than at home, snow falling, drinking hot chocolate with my family while watching Christmas movies!
4. Simona Panetta, Managing Editor The compassionate nature of the Holidays encourages me to look a little deeper, to listen more intently to the sound of falling snow. Every moment is a gift waiting to be opened.
5. Lina Posteraro, Office Manager & Senior Accounts Manager I am inspired by the love of my family and friends and the meaning of Christmas.
6. Susan Bhatia, Director, New Business Development I'm inspired by the sincerity and generosity of others. A year ago some friends and I put together a sandwich drive for the homeless. An act of kindness is the best present one can give.
7. Omar Cushnie, Senior Designer I'm inspired to share my blessings with the less fortunate through charitable donations.
8. Christina Ban, Senior Designer I become inspired by all the fun shopping and thinking about the people I love.
9. Steve Bruno, Web Project Manager The season inspires me to drink egg nog, build snowmen, carol at my church and spend time with family and friends.
10. Serafino Catallo, Graphic Designer Playing CDs of carols and popular holiday songs that I loved as a kid for my own children to listen to reminds me of how some things go full circle and can't ever be changed.
11. Michael Hill, Writer Knowing that many go without the comforts we enjoy inspires me to be better a person – both in action and in writing.
12. Will Lem, Video Editor What inspires me is all the classic holiday songs that play on the radio.
13. Madeline Stephenson, Writer Watching It's a Wonderful Life by the fireplace with my family is a holiday tradition that reminds me to be grateful for all of life's wonders.
14. Aleksandra Gorovic, Office Administrator This time of year allows me to enjoy the moments of a shared meal, and my memory of it will bond me to that time once again.
15. Sal Pasqua, Intern From carolers and Santa to the mall and frosted trees, the holiday season inspires me to eat like a polar bear, jump and play in the snow, and bundle up with a loved one.