Always a Season Ahead: Yabu Pushelberg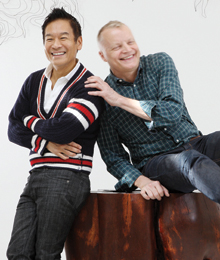 If you've ever had a nightcap at the W Hotel in Times Square New York, sipped a Lipstick Martini at Toronto's Bymark, waltzed into Tiffany & Co. on Wall Street or snagged a bag at Louis Vuitton, Hong Kong, then it's fair to say you've already shaken the figurative hands of George Yabu and Glenn Pushelberg. With their innovative personalities strewn like rose petals across the interiors of international landmarks, this interior duo has become globally known for leaving its 21st century signature on every space. "No matter what type of project it is, interiors should evoke an emotion," says Pushelberg, who speaks for one half of the award-winning Yabu Pushelberg design firm.
There's another reason why their names might ring a bell. The ambitious partners were commissioned to design the entrance lobbies, spa, ballroom, conference facilities and hotel rooms for the highly anticipated Four Seasons Hotel and Private Residences Toronto at Bay Street and Yorkville Avenue. Yes, the same hotel that recently made headlines for breaking a record with the sale of a $28 million penthouse, the priciest condominium quarters in Canadian history. "The premise behind the Four Seasons was to create a hotel that was a more contemporary Four Seasons Hotel; to create a Four Seasons Hotel that looked to the future, but at the same time was not trendy – a hotel that had longevity and was tasteful. Particularly, a hotel that represented the Four Seasons brand in a more modern way," says Pushelberg, who likes to dine at Toronto's trendy Ruby Watchco and shop at the self-designed upscale fashion and furnishings retailer Lane Crawford in Hong Kong. The luxury property-to-be will consist of east and west towers and is expected to come to life by summer 2012. "I think it is representative of us, which is important," he adds.
Owning personal digs in New York City (Calvin Klein, Nicole Kidman and Hugh Jackman are neighbours), the Hamptons, and Bennington Heights in Toronto, you can say that Yabu and Pushelberg live for the indoors. "It's important that each interior has its own identity," says Yabu. In business and in life, the two have been a team since they established their Toronto firm more than 30 years ago, which has since diversified to New York and China. Their future plans include evolving their furniture and furnishing designs and ideally working on a gallery and/or museum space. "We would love to do both because there's a rigor to it. It's a more difficult challenge than designing a store or hotel, in a sense, because there's more inflexibility and we love challenges," says Yabu.
In fact, it's the obstacles that particularly inspire Yabu and Pushelberg to continue pushing the envelope when it comes to exploring the infinite possibilities of design, whether its travelling to India to learn about stone carving and lacework or taking on blank-slate ventures that offer opportunities to innovate. "I think personally we have an obligation to always challenge ourselves when it comes to creating new projects. Through that, we've become design icons for Canada," says Pushelberg. "We take on projects that incorporate a challenge to create something that captures the essence of its existence," adds Yabu.