Valley Associates Group: Supporting Our Troops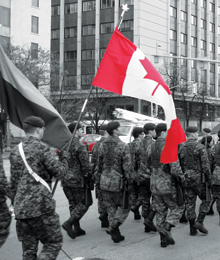 Improvised explosive devices (IEDs) have been the largest threat to our Canadian Forces and have accounted for a large proportion of the deaths of many a brave soldier.  This is often a reality that the mothers and fathers, sisters and brothers, sons and daughters of the Canadian Armed Forces grapple with every day, and why our support – both at home and afar – is, and will always be, of the utmost importance.
"In any conflict, it's all about measures versus countermeasures," explains Michael Martin, president of Valley Associates Group, one of Canada's largest independently owned provider of equipment to the Canadian military. "There was a certain level of threat when the Canadian Forces went into Afghanistan. They went in with a certain level of protection, and the insurgents – the Taliban – learned how to defeat that level of protection. They upped their game, so we have to up our protection while maintaining our capability."
As a developer and provider of systems and equipment to the Canadian military, Martin is well aware of the threats soldiers face and the tools needed to weather those dangers. "We've moved away from conventional Force-on-Force conflict to an IED conflict, where there's really almost no limit to the amount of explosives somebody can bury," says Martin. "We need to provide our soldiers (our sons and our daughters) with the type of protection – the best protection – while giving them the capability they need to do their job."
But when it comes to supporting our troops, Martin, who is a former Air Force man himself, isn't satisfied with simply developing equipment. He also sits as a council member of 33 Signals Regiment Foundation, an Ottawa-based non-profit organization that assists reserve soldiers serving in the 33 Signals Regiment.
The brainchild of Justin R. Fogarty, Honorary Lieutenant-Colonel of 33 Signals and counsel with Canadian law firm Heenan Blaikie LLP, the Foundation brings Canadian business executives and community leaders together with retired veterans to bridge the business world with our troops. The Foundation diligently accumulates funds to afford organizations like Canada Company and True Patriot Love with much-needed finances that will provide Canadian soldiers with a shoulder to lean on. This includes aid for families of fallen and injured soldiers, and scholarships and bursaries for soldiers wishing to pursue an educational career. "What we decided to do was not only raise money for the regiment," says Fogarty, "but raise attention to some of the areas where the government isn't able to help out and support families."
Fogarty explains how the Foundation has also supported an initiative with major Canadian universities to waive tuition fees for soldiers and their families; the importance of safeguarding civilian careers for soldiers; and the need for adequate resource centres for veterans, as he makes clear, "We're going to have lots of soldiers come home, and each soldier is going to have their own set of needs depending upon their families. They're going to need counselling and assistance."
Although still relatively young, the 33 Signals Foundation has currently raised roughly $50,000 for these initiatives, with an aim of generating $250,000 – $300,000 by summer's end.
"We go about our day-to-day business and often the thought doesn't enter our mind that somewhere in the dirt there's a Canadian soldier doing their job. We're very pleased to be able to, and humbled, I'd have to say, to be involved with the work of 33 Signals. It's a new foundation; we think it's got tremendous legs," Martin explains.
While the 33 Signals Foundation's admirable work is commendable in the highest regard, Martin understands that not every citizen can dedicate that much time and money to a cause. However, philanthropy isn't limited to mere monetary pursuits. Sometimes spending an afternoon at a veteran's home, a local legion hall or just saying "thank you" to a soldier on the street are all significant means of expressing appreciation for our fellow Canadians in arms. As Martin notes, "These are the people that take the risk to do the job, and we should show them our gratitude on a daily basis."
The Harper administration has stated it will begin withdrawing troops from Afghanistan this summer, but for many the war doesn't end there. The visible and invisible injuries inflicted on our troops remain – physical and psychological scars that may never properly heal – and many must painstakingly adjust to the new paradigm presented by life after war. They have stood bravely in front of us in battle and we must supportably stand behind them at home. As Martin concludes, "It isn't always [on] the Department of National Defence to fix everything, or the government of Canada to fix everything. We in the community have the ability to assist, and we should do that."