Life's Simple Pleasures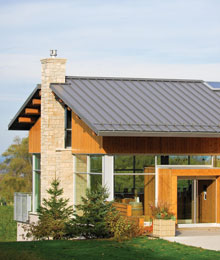 Wine, bread and cheese – delicious ingredients to a good time
Fielding Estate Winery
Good wine, good food, good friends – three simple pleasures that have been the source of memorable occasions for centuries. While we might not be able to help you in the friends department, – although, feel free to invite me to your next shindig – we can definitely take care of the food and wine.
For starters, how about some the finest wine from the Niagara region? Fielding Estate Winery was originally founded in 2005 by Ken and Marg Fielding in the renowned Beamsville Bench area of the Niagara Peninsula. Today, their son, and former professional stock car driver Curtis Fielding and his wife, Heidi, oversee operations at Fielding Estate, crafting spectacular wines from 100 per cent Niagara Peninsula grown grapes. The duo steers a passionate posse of fermenters that take their wine seriously, but understands that when you uncork a bottle of life, you need to let it breath. Fielding Estate Winery's sweet and slightly spicy 2007 Syrah won a gold medal at the 2010 Ontario Cuvée Awards.
www.fieldingwines.com
Simply Great Breads, by Dan Leader
Simply Great Breads, by Dan Leader
To complement the fruity, focused and full-body flavours of violet vinos and concentrated chardonnays, fresh bread is a must. Daniel Leader has been using organic ingredients to hand-make the crisp, warm and moist breads found at his Bread Alone Bakery since 1983.
Leader's passion for bread has culminated in his latest book, Simply Great Breads (The Taunton Press, 2011). Written with Lauren Chattman, the book divulges the simple yet sophisticated secrets to baking with yeasted dough. Learn the techniques to baking a wide range of doughy delights, including traditional Native American Navajo fry bread – delicious on its own after pulled out of the pot, or a phenomenal bread for dipping when cooled. Leader's bewildering breads add a firm base to your effervescent feast and will have guests pining for another piece.    www.breadalone.com
Navajo Fry Bread – Simply Great Breads, Pg 69
A customary Native American treat, Navajo Fry Bread is a light, circular bread that goes great with meat and vegetables or is excellent with hummus or a more simple bean dip.
Ingredients:
4  cups unbleached all-purpose flour
3/4 tsp  fine sea salt
1 tbsp  instant yeast
1/4 cup  room temperature milk
1  3/4 cup  room temperature water
vegetable oil for frying
Method:
1. Combine the flour, salt and yeast in the bowl of a standing mixer fitted with the paddle attachment. Add the milk and water and beat on medium speed until well-combined, scraping down the sides of the bowl once or twice as necessary.
2. Transfer the dough to a lightly oiled bowl or dough-rising container, cover the bowl with plastic wrap, and let stand at room temperature until it doubles in volume, 2 to 3 hours.
3. Line a baking sheet with parchment paper and dust the parchment with flour. Liberally dust a work surface with flour and turn into 10 equal pieces and shape each one into a round. Place the dough balls on the prepared baking sheet, dust the tops with flour and drape with plastic wrap. Let stand until slightly raised, 25 to 30 minutes.
4. Stretch each ball, as you would with pizza dough, into a flat 6-inch disk. Line another baking sheet with paper towels. Heat 1 inch of vegetable oil in a large, deep cast-iron skillet over medium-high heat to 350 °F. Place the balls, 2 or 3 at a time, in the pan and fry until golden, turning once, about 8 minutes total. Remove the fried bread from the pan with a slotted spoon and drain briefly on paper towels before serving warm.
www.amazon.ca
Local Bake Shops
ACE Bakery Throwing preservatives out the window, Ace Bakery uses only the best natural ingredients for its encyclopaedia of selections. Customers can savour delicious olive breads and roasted garlic ovals, just to name a few. www.acebakery.com 416.241.3600
Aida's Pine Valley Bakery For deliciously memorable Italian baking, you need to go to Aida's Pine Valley Bakery. Aida's hospitable staff creates a welcoming and friendly environment that makes you feel like you're one of the family. 830 Rowntree Dairy Rd., Woodbridge 905.851.8642
Italian Home Bakery Since 1955, Italian Home Bakery has used its Italian hearth to knead the GTA's desire for enchanting European loaves. Stop by your local retailer for a crisp Calabrese bread or a superb spaccato. www.ihbakery.com 416.674.4555
Fabulous Fromage
A marvellous medley of rich, creamy and fulfilling cheeses from across the Canadian frontier.
1. AVONLEA CHEDDAR From the pristine shores of Prince Edward Island comes this medium-flavoured, traditional cloth-bound cheddar. www.formaggiokitchen.com
2. CAPE VESSEY Made from fresh goat's milk, this cheese was the 2008 Royal Winter Fair's Grand Champion Goat Cheese. www.fifthtown.ca
3. FLEURON A true Quebec blue cheese, this wheel melts on your tongue with intense flavour. www.fromagesduquebec.qc.ca
4. LOUIS D'OR Allowed to ripen for nine months, Louis D'Or delivers a full, fruity and unforgettable flavour. www.fromagesduquebec.qc.ca
5. CRU DU CLOCHER This cheese has two recommended types of aging: six months gives it a smooth creamy taste, while two years gives it a more distinct flavour. www.fromagesduquebec.qc.ca
Summer Caprese Salad
Summer Caprese Salad
From celebrity chef Mario Batali's book Molto Gusto, this vibrant Caprese salad is an amalgamation of mozzarella, tomatoes, basil, champagne vinegar and olive oil that ignites the senses with an explosion of flavour.
283 g  fresh mozzarella
1  1/2  pounds assorted ripe tomatoes (choose a combination of colours, types and sizes), such as Brandywine, purple Cherokee, cherry, pear, peach and/or Green Zebra
2 tbsp  champagne vinegar
6 tbsp  extra-virgin olive oil
1  small bunch basil (Genovese, lemon, Thai or Fino verde), leaves removed, or about
1  cup mixed fresh basil leaves
Maldon or other flaky sea salt
Method:
1. With a sharp knife, cut the mozzarella into 1/2-inch-thick slices. Transfer to a serving platter, reserving any milky liquid from the cheese in a small cup.
2. If using cherry or grape tomatoes, cut them in half; reserve the juices. Core the remaining tomatoes and slice them, reserving the juices. Arrange the tomatoes on the cheese.
3. Whisk the vinegar, reserved tomato juices, any liquid from the mozzarella, and the olive oil together in a small bowl.
4. Tear the basil leaves over the salad. Pour the vinaigrette over it, sprinkle with salt, and serve.