Nikki Yanofsky: Canadian Singing Sensation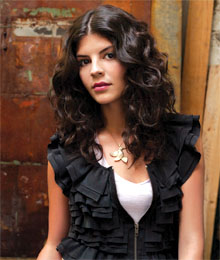 Nikki Yanofsky is unlike other singing sensations her age. At 16, her interest in jazz music and love for performing tracks by timeless music legends like Ella Fitzgerald are a far cry from the pop-saturated culture of 21st century music.
Chosen as the voice for "I Believe" – the anthem for the Canadian broadcast of the 2010 Winter Olympic Games – and gracing a worldwide audience of 3.2 billion viewers during her opening performance of "O Canada" at the Games, Yanofsky recalls it as, "one of the most nerve-racking and amazing experiences" she's had to date.
"Afterwards, I went back to my dressing room and I'm like, 'OK, mom, dad – you go into the Green Room, I'll meet you in a second,' and I called my best friend and just started crying hysterically. I couldn't believe what had just happened to me … how come I'm accomplishing all this, how come my dreams are coming true? I'm never going to forget it."
Both a music superstar and student at St.George's High School in Montreal, Yanofsky has worked with industry A-listers on notable projects, which include lending her vocals to K'naan's "Wavin' Flag" charity single for Young Artists for Haiti – which debuted at No. 1 on the Billboard Canada Top 100 chart and included over 50 top Canadian artists. She also recorded the swing classic "Stompin' at the Savoy" with Herbie Hancock and Will.i.am for Kareem Abdul-Jabbar's audio book, On the Shoulders of Giants. Juggling her career with her studies, Yanofsky is able to manage both and keep in touch with friends via text messaging. "I don't ever really feel like I'm missing out on anything –  I still go to school, I still have my friends and I get to travel the world and live out my dreams," explains the Canadian songbird, who co-wrote some of her songs on her debut album, Nikki. "[I felt] vulnerable because you let people into the way you think and the way that your mind works."
Her passion for music and hard work has brought her success since her 2006 debut at the Montreal International Jazz Festival when she was 12.
Today, she is an artist with a classic voice, and whose sense of self is greater than her age. "Unfortunately – especially with teenagers – we're kind of finding out who we are. People are going to constantly try to knock you down, but you have to maintain high hopes and a high spirit and believe you're beautiful and embrace your flaws, because that's what makes you pretty," says the eclectic Yanofsky, who describes her style as a mixture of "the wackiest things." Some days, she can be spotted in a vintage button-up dress. Other days, a ripped T-shirt and jeans.
Singing pretty since the age of two, performing was always something Yanofsy knew she wanted to do. "When you find something that you love so much and that you're passionate for, I don't think that there's any other choice for you." With a burgeoning fan base screaming out her name all before having a full driver's licence, Yanofsky, who is currently touring in Europe and scheduled to perform in Japan, says fame hasn't changed her. "Not in the slightest. I'm still the same Nikki I was before." www.nikkionline.ca