Viva Portugal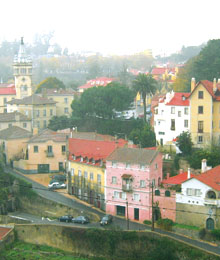 As I gaze out of my tour bus window I am met with majestic meadows, mammoth mountaintops and an affectionate orange sun that insists on spreading its warm rays across the lush landscape. It is the third day of my first trip to Portugal and I've already lost count of the astonishing sights I've seen. When I was invited by Julie Brito of Victours International to join her and a small group on a week-long tour of one of Europe's most distinguished countries, I had little idea just how privileged I was.
We are traveling up a meandering mountain road decorated by fresh foliage perfectly fit for photo-ops. Olive trees and grape vines lead the way to our next destination – Quinta da Pacheca Estate and Hotel, a famous family run company that's recognized for its historic port wine and, most recently, for its elaborate hotel renovations.
It is here that we are warmly welcomed by the Serpa Pimentel family and escorted across glossy hardwood floors to our intimate lodgings. My priorities peter out as I enter a charming chamber that's outfitted with a Vichy shower, four-poster bed, oak armoire, flat screen TV and French doors that open out to a private balcony with a picturesque view of the Douro Valley. This place is a personal favourite.
Needless to say, the sun rose far too soon for me to fully enjoy all of Quinta Da Pacheca's enchanting yet contemporary amenities. After a glorious breakfast of warm croissants, fresh fruit and hot cocoa, our incredibly informative guide, Lusia Freitas of Traveltag, takes us to our next spot – the town of Fatima. Along the way we stop in Coimbra to visit the five-star Palace Hotel of Bussaco – a Manueline-Gothic style castle originally built in 1885 for Portuguese royalty. The balcony view is sublime. Set on a hill in the middle of a forest, treetops diffuse the sun while morning dew caresses a maze of grass below and a single swan swims in a nearby pond – a page torn out of a fairytale.
We arrive in Fatima at dusk, a town that became religiously significant after three local children claimed to have witnessed apparitions of the Virgin Mary in 1917. Sometime after the supposed sightings, a holy shrine was built in Mary's honour. After being told that thousands of peasants come from all around the world to visit the Basilica every year, I make it my mission to go exploring at sunrise. I admire its neo-classical style and feel comforted by the local congestion despite the early hour. It's nice to finally meet back with the Victours group for breakfast to exchange stories of what each of us saw – it's not long before Julie, Luisa and the rest of the group feel like family. Our next stop is Évora, the museum town of Portugal.
After visiting some historically remarkable museums, we arrive at our dining destination. I have to say that the M'AR De AR Aqueduto five-star hotel's cuisine is truly the crème de la crème. Unique contemporary décor and romantic ambiance aside, the menu is entirely constructed by its award winning chef António Nobre. With three flavoured butters to harmonize our heated bread, and whipped potatoes that ineffably melt on our palates, our group leaves feeling divinely fulfilled and dying for the recipe.
Our last two days are spent exploring Lisbon. Pasties de Belem is a huge hit amongst the Victours group. Established in 1837, this Portuguese pastry shop is truly a succulent success. We break for an afternoon tea at the five-star Hotel Tivoli Seteais in Sintra and I feel like Alice in Wonderland. Words become mere mutters as we sip warm tea and nibble on ham and cheese croissants beneath a hand-painted backdrop in a private crimson-coloured room.
It's been only one week and I'm unbelievably familiar with this formerly foreign place. Though the flight back home is bittersweet, a new group of friends and a montage of Portuguese memories have given me all the entertainment I could ask for. www.victours.ca 416.736.6613