Vancouver, True Patriot Love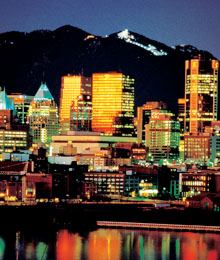 An event so powerful that it brings countries together, building bridges and setting aside differences, the Olympics is a symbol of unity. Encouraging both international competition and cooperation, the Games are a way for diverse athletes to demonstrate great strength and magnitude, the way they did in ancient Greece.
Canada is glowing with pride as it gears up to host Vancouver 2010 – an event to go down in history. Buzzing with anticipation and overflowing with international guests, there's no better time to visit this attraction-laden city. If you're lucky enough to have tickets to the Olympic or Paralympic Games, there's no doubt that you are in for a show-stopping display of athletic prowess. If not, there is still much to see.  
"The Olympic rings have been lit in Coal Harbour; the torch returns to British Columbia  on February 4, and we have an exciting line-up of sport and cultural events for visitors. We're definitely ready and excited to welcome the world and proud to show off our city," says Emily Armstrong of Tourism Vancouver.
Patrons and businesses alike offer Olympic-sized events and promotions on virtually every corner. Cultural Olympiad 2010 is the official arts festival, bringing more than 600 ticketed and free arts events to some 50 venues in the Sea-to-Sky corridor. Running from January 22 to March 21, 2010, this celebration will have spectators tapping their toes to the cutting-edge theatre, dance and music, while its visual arts displays leave them breathless.
Walking through the city's charming cobblestone streets, Vectorial Elevation, a grand scale light show, will illuminate the night sky. This gorgeous spectacle will light the way to some of Vancouver's starriest attractions, like the fashion-savvy Robson Street, the monumental Grouse Mountain, and the iconic Vancouver Art Gallery (VAG).
Adding to the mounting excitement is the impressive list of celebrity and dignitary attendees. Supermodel Cindy Crawford and superstar swimmer Michael Phelps will be attending the Games, along with NASA astronauts Buzz Aldrin, Thomas Stafford and Eugene Cernan. Vancouver will also welcome British Prime Minister Gordon Brown and Russian Prime Minister Vladimir Putin, and there have even been hushed hints that U.S. President Barack Obama is on the guest list.
Of course, we can't forget the most important guests of all; the athletes. With a promising roster of young competitors – at 19, Torontonian Patrick Chan is one of the country's top hopes for Olympic gold – propelling towards the podium this year, it's bound to be a riveting, excitement-filled race.