Sound for the Soul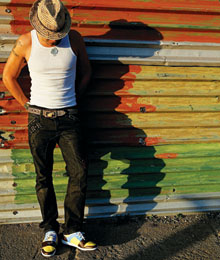 Their sounds may differ, but the gripping voices of soul singer Jarvis Church, soprano Michelle Danese, Ben Harper and Vanessa da Mata give their emotionally involved audiences chills with equally moving performances.
Jarvis Church
In his self-produced CD The Long Way Home, Juno Award-winning, Grammy-nominated Gerald Eaton, a.k.a. Jarvis Church (a name he derived from living between two parallel streets in Toronto) drives a rhythmic, sexy pop-soul vibe. "My lyrics are very personal, they are little windows into what's going on in my life. When you're writing about something that you honestly feel, the words come a lot quicker."
Music lovers recognize him most as the lead singer in The Philosopher Kings, a commercially successful R&B and soul music band formed in the post-grunge era.
Among his accomplishments as a solo artist and producer are discovering superstar Nelly Furtado, and writing and creating music for the show Da Kink in my Hair. "I'll always be producing and singing and being an artist. I would feel incomplete if I did just one," he says.
Church was born in Jamaica in 1971, and credits Bob Marley, Prince and Michael Jackson as great musical influences. He moved to Toronto as a young boy, and now lives and works in Los Angeles with his wife and three children. www.jarvischurch.com
Michelle Danese
Her youthful glow, golden ringlets, petite silhouette and life-size voice break all stereotypes of a conventional opera singer, but this Taylor Swift look-alike is starting to upstage her elders. Michelle Danese breathes innocence and purity into a seemingly seasoned art. "I've always loved being on stage and performing for an audience," says the 25-year-old soprano. Gifted and determined, Danese discovered her vocal talent at the age of 11, and has since received accolades and awards for her dazzling performances. "I think that it's very important to discover what is especially unique about one's own artistry and what makes you stand out from a crowd." www.michelledanese.com
Vanessa Da Mata & Ben Harper
In 2007, Ben Harper and Vanessa da Mata collaborated on a song called "Boa Sorte/Good Luck," which reached No. 1 on Portugal's music charts and later translated to a Latin Grammy Award for Best Contemporary Brazilian Pop Album for da Mata. The song interpretively unites the Spanish and English influences of da Mata and Harper. Their echoing harmonies weave in and out, creating a seamless transition between language and melody.
Growing up in different locations, Harper and da Mata fuse their unique styles and experiences to create a collaboration that's worthy of universal appreciation. Born in Claremont, California, Harper grew up playing the guitar. One of his inspirations was folk and blues artist Taj Mahal, who ended up playing a pivotal role in his career by inviting Harper to come on tour with him. It wasn't long before Virgin Records sought his soulful sound and signed him. Virgin helped him develop his first two albums, Welcome to the Cruel World in 1994, and Fight for your Mind in 1995. Less than a decade later, he was named Artist of the Year by the French edition of Rolling Stone magazine. This is usually the point where one says the rest is history, but interestingly enough, Harper continued performing at several concerts in support of U.S. President Barack Obama's presidency campaign in 2008. Harper is currently on tour in Australia with his new band Relentless7 supporting Pearl Jam.
Like Harper, Brazilian-born da Mata was influenced by a celebrity singer who helped catapult her career. In 1997, she assisted famed Brazilian singer Chico Cesar in writing the song "A Forca que Nincx Seca," which was later recorded by Maria Bethania, who was nominated for a Latin Grammy Award. She went on to work with Sony on her first album in 2002, and has been garnering worldwide recognition ever since. In 2007, she released her third album Sim, which brings us right back to da Mata and Harper's smash hit "Good Luck."