Give Cheer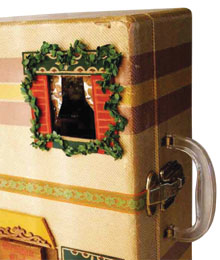 'Tis the season to forget all about the stresses of gift giving. This Holiday, dip into Santa's goodie bag to discover what's on everyone's list.
1. Dollhouse suitcase Give the ultimate gift with this two-in-one handmade Doll House, constructed from a vintage suitcase. The dream house includes three rooms and a removable furniture piece set. www.etsy.com
2. Cupido Surprise your loved ones with stylish one-of-a-kind rings, adorned with romantic Italian inscriptions for an extra-personal touch. www.cupidodesigns.com
3. Geox These boots were made for walking. Snag some sensible but stylish soles when you're trudging through the snow this winter with Geox's breathable waterproof shoes. www.geox.com
4. Chicco Liteway Stroller Get your little darling ready for the road. This comfortable lightweight umbrella foldable stroller can be adjusted for all conditions. www.sears.ca
5. Rigid 11 Gallon Smart Cart Vac Who could turn down this multi-functional necessity? The powerful 11 Gallon Smart vacuum also functions as a storage drawer in the workshop. www.homedepot.ca
6. Fruits & Passion: Cucina Fragrant Kitchen Spray After a Holiday meal, there's nothing quite like clearing the air with this zesty blend from the Cucina collection of fragrant kitchen sprays. www.fruits-passion.com
7. White Baby Super Cute Initial Onesie + JOY Spread the gift of joy and keep your little sweetheart cosy this Holiday season with the 100 per cent cotton super-soft onesie, detailed with felt lettering and available in sizes from three to 24 months. www.etsy.com
8. Handy Manny Converting from truck to tool set, the Handy Manny two-in-one Transforming Tool Truck Playset has it all. Ages three and up.