Written to Inspire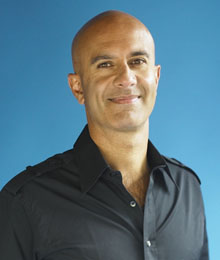 In a world filled with chaos, author Robin Sharma reaches into the depths of life's experiences, engaging his readers to see an inspiring revelation where happiness is an attainable process, not a final destination.
In these uncertain times, what is your advice for people going through difficult situations?
A: We must remember that the most successful and resilient people are able to transform challenges into opportunities. Each distraction or challenging situation that life throws our way must be interpreted as a learning point and as an opportunity to improve as human beings. This is the time to shed our old ways, to create and be remarkably innovative, and remake old business models. A simple way to deal with stress is to focus on the positive and distance yourself from the overwhelming negative news in the world right now.
You talk and write a lot about this concept in "Lead Without Title." Explain what leadership means to you.
A: Every person within an organization has the opportunity to show leadership behaviour each day. Leadership is far less about position than it is about attitude and the way you show up each day. Leaders without a title are able to seize opportunities amidst setbacks, constantly innovate, and treat people with compassion. Every person can be the CEO of his or her own role. For example, frontline sales staff can become 'CEOs' of the division or business they're responsible for. This enables them to assume job ownership and foster a sense of freedom to control their own careers. The role of great leaders is to help their staff to realize their own potential, driving them to do their best and work towards excellence.
Who inspires you?
A: My two children are my heroes. They teach me what passion, curiosity, joy and unconditional love looks like. People like Bono, Richard Branson, and Nelson Mandela inspire me. Unknown human beings reaching for their own unique form of personal and professional greatness inspire me. My readers – and all their stories of personal and professional transformation – inspire me deeply.
Could you name three of your best tips or pieces of advice, that people can quickly adopt into their daily lives?
A: Be the greatest you can be before it is too late, because no one knows how long we are going to live. Run towards your fears rather than away from them. Within your business or organization, show leadership in whatever title you have, and help build a culture of success, and build strong relationships.
How do you define happiness?
A: Happiness is being in the process of creating what's most important to you in all significant areas of your life (including work, home and personal). Happiness is not about reaching the destination, but about enjoying the process of getting to your own personal mountaintop. Happiness is also about being true to yourself and living life on your own terms rather than according to the values and dreams of others.
In your books, you encourage people to spend 60 minutes a day reading. What are your favorite books?
A: Reading is having a conversation with the author. Just imagine having a conversation today with Mahatma Gandhi and Richard Branson and Lance Armstrong and Salvador Dali and Madonna – by reading their books. One idea read in one book has the power to revolutionize your life or your career. I love to read. My greatest gift to my kids will be my library.  Some of my favorite books are "The Alchemist" by Paulo Coelho, who has become a good friend. "The Meditations of Marcus Aurelius" and "The Prophet" by Kalhil Gibran. I still love classics like "How to Win Friends and Influence People" by Dale Carnegie as well as a lot of the popular business books out there like "Winning" by Jack Welch and Jim Collins' "Good to Great".