Creating a Green Community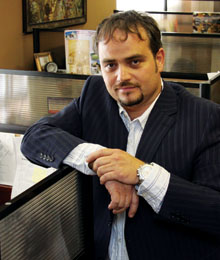 The evolution of Rexdale Disposal is a testament to the Rossi family's devotion and commitment to its work. A Toronto-based waste and recycling enterprise, Rexdale began in a rented space behind a gas station to grow into a three-acre property that houses over 30 crimson-coloured service trucks, a 20,000 sq. ft. building and 35 skilled employees. The Rossi family is a tight-knit group, who execute business matters with integrity, passion and diligence.
"For five days of the week, I would say my day starts at 5 a.m. and ends at 7 p.m. and then Saturdays are half days. That gives me about 75 to 78 hours of work a week," calculates Mauro Rossi, vice president of Rexdale Disposal. Mauro inherited an impressive work ethic from his father, Filiberto Rossi, the founder of the company. Now 73, Filiberto began Rexdale Disposal back in 1973, after his hours were cut at the disposal company he worked for. His wife, Rita, assisted in the challenging endeavour of jump-starting a new business to ensure her husband's happiness and success. Filiberto's business-savvy nature and his passion for the industry, combined with Rita's solid background in account managing, allowed for Rexdale Disposal's growth and prosperity. The dynamic pair eagerly worked together to form what is now recognized in the city as a top waste and recycling hauler. "We've achieved what we wanted to achieve in today's market and we've always grown at one to two trucks a year," says Mauro.
Rexdale Disposal's wide clientele ranges from the private to the public spheres. They offer residential collection bins, have serviced Oxford Properties Group for the past 33 years and work with over 2,000 customers on both residential and commercial accounts. They also recently aided in the Toronto civic workers' strike that lasted an outrageous six weeks. Rexdale Disposal remained rather busy during those smelly, stagnant days. "We picked up waste at residential houses and worked with city councillors in designating dump sites for residents," says Mauro. "The community greatly benefited from his role in the strike," says Toronto city councillor Giorgio Mammoliti. "He took it one step further and provided bins for residents to drop off their garbage. He's a good partner and we need partners like that in the city of  Toronto."
Throughout the years, Rexdale Disposal has forged strong and treasured relationships with their clients. "They've been a great help for us. It's a family-run business and Mauro loves what he's doing. Anytime we call for assistance, he's always been there for us," says John Crane, an operations manager at Oxford Properties Group. Tony Gazzaruso of Lakeview Homes agrees: "We've been working with Rexdale Disposal for five to seven years. They offer excellent service, competitive prices, are easily accessible and are willing to go beyond the norm of what is expected."
Charismatic and friendly, Mauro is capable of steering a bustling business while still remaining down-to-earth and approachable. "He's pretty fantastic. He doesn't feel like a boss, he feels more like a co-worker. That makes the work environment very comfortable," notes Vito Fiorillo, Rexdale Disposal's vice president of business development. "We work as a family here and our customers mean everything to us. We take pride in what we do. It may be a waste company to somebody else, but it's everything to us," he adds.
Mauro acknowledges the competitive nature of the waste removal industry and manages to survive, succeed and flourish by remaining honest in all aspects of business. In order to stay innovative and current, Rexdale Disposal also focuses on bettering response times. "The only thing you can enhance in this industry is the customer service. Response times are becoming a lot better," he says.
As proud supporters of the green movement, the Rossi family also looks to the future and strives to preserve and protect the environment. "We want a greener tomorrow. We need to make sure we have some greenery left so that we can share it with our kids and our grandkids," says Filiberto. They are constantly seeking out better means of recycling and hope to incorporate biodiesel products and equipment in the near future. "Doing the right thing is what we look at. It may not be the best thing, but it is the right thing to do for the environment," adds Filiberto.
The Rossi team fervently believes in their motto: family, unity, strength. "We always work together as a family and discuss our matters. We do communicate very well as a family. The fact that we still work as one, is the reason why I'm so intrigued by this business," says Mauro. "I love the adrenaline of meeting new people. That's what keeps me motivated."
www.rexdaledisposal.com
416.744.8114