Ford Mustang GT vs. Dodge Challenger R/T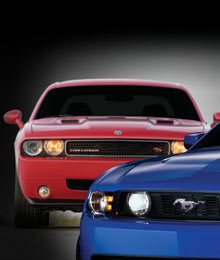 With the North American automobile industry suffering, Ford and Chrysler continue to focus on attracting a niche market that never seems to grow old. From sports car enthusiasts like Jay Leno to do-it-yourselfers like Home Improvement's Tim Taylor, the muscle car is an iconic status symbol that transcends generations and attracts envious glares from those left in its dust.
The Ford Mustang GT and the Dodge Challenger R/T are perhaps the most prominent domestic muscle cars on the market today. Fully equipped with styling that will make you shake in your racing boots, growling engine noises, and enough power to force your head to the headrest, the Challenger R/T and Mustang GT would be welcomed additions to any car aficionado's garage.
Ford Mustang GT
The Mustang GT is one of those classic drives that every car enthusiast must experience at one point in his or her life. As with the Challenger, the Mustang's history and reputation precedes any first impressions. But if you're old enough to remember the Mustangs of the 1970s, the familiar body styling of the 2010 GT will not be lost on you.
The 2010 GT is tuned with a 4.6-litre, SOHC V-8 engine that produces 315 horsepower and 325 pound-feet of torque. Unlike the Challenger, the Mustang GT comes standard with a five-speed manual transmission. A six-speed automatic transmission is available as an option for those drivers who would rather not worry about constantly changing gears in bumper-to-bumper traffic. The GT revs from 0 – 100 kilometres an hour in little over five seconds, as it rumbles past the competition.
The Mustang GT comes equipped with 18-inch aluminium rims, dual stainless steel exhausts, and heated leather sport bucket seats. A navigation system and other interior niceties are options on the GT but always add a beautiful touch to the driving experience. Proving its longevity over countless decades, the Mustang GT is sure not to disappoint.

Dodge Challenger R/T
Rejoining the Dodge lineup in 2008, the all-new Challenger draws its inspiration from a long history of exceptional muscle cars.
Surrounded by the SE, SXT and SRT8 variants, the R/T is in the upper trimline of the Challenger family. The R/T comes standard with a 5.7-L, V-8 Hemi that produces 372 horsepower and 401 pound-feet of torque with a
five-speed automatic transmission. An optional six-speed manual transmission (with limited slip differential) increases the R/T's HP and torque marginally to 376 and 410 respectively. Despite its weight, the Challenger R/T is capable of reaching 0 – 100 km/h in a little under six seconds, and logs impressive top speeds, ensuring that the R/T's worthiness of muscle-car status cannot be questioned.
The Challenger R/T comes standard with an ABS braking system and stability control that will help even the less experienced driver navigate tight corners and stop in any conditions. Also standard on the R/T are the larger 18-inch aluminum rims, a body-coloured rear spoiler and a polished chrome fuel cap – all designed to further enhance the look and feel of the vehicle.
Packing an impressive punch at under $40,000, the R/T costs less than the more expensive SRT8 model.