Top Food & Gourmet Shoppes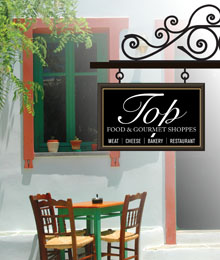 Take a stroll and discover these village treasures.
It's your city, which is why we've scavenged high and low for some of the best it has to offer. Introducing our prime picks of gourmet restaurants, a quality butcher, and a  fine cheese outlet, each spot offers an unbeatable product, guaranteed to please.
Whether you're heading out for a night on the town or hosting a long-weekend getaway affair, get ready to discover some of your city's top shoppes.
CLICK ON THE HIGHLIGHTED TEXT BELOW FOR SOME OF THE CITY'S TOP FOOD AND GOURMET SHOPPES.
TOP MEAT
Toronto Wholesale Meats
TOP CHEESE
Quality Cheese
TOP BAKERY
Mercato Fine Foods
Dolce Bombe
TOP RESTAURANT
Zona Caffè
Il Cavallino Ristorante
The Consulate Dining Lounge
Brix Napa Valley Grille & Wine Bar
Di Manno Ristorante