Quality Buffalo in Ontario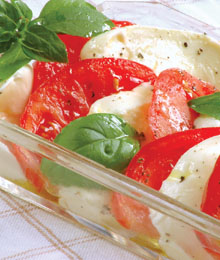 Rich and creamy, strong or intense; whichever way you slice it, cheese is a blissful indulgence. As the companion to the cracker and the soulmate of wine, cheese enhances the taste of other foods, and is simply delectable – even when enjoyed alone.
In an age of after-dinner cheese platters and wine parties, artesian cheeses have become a symbol of culture, refinement and eminence. Whether you're rubbing elbows at a fundraiser or fine dining in the city, there's a good chance that cheese will be part of the big night. And of course, there's no doubt that you just can't throw the perfect gathering without it.
With hundreds of cheese varieties on the market, choosing the right one to pair with your wine or knowing which is most nutritionally beneficial can be a challenge. But no one knows better than Albert, William and Joe Borgo of Quality Cheese.
Located in Vaughan, Quality Cheese manufactures over a dozen selections of European specialty cheeses right inside its modern dairy facility. The cheeses can be found at select retailers and restaurants throughout
the GTA. So if you've ordered a mouth-watering Caprese salad or a rich Stracchino risotto at one of Toronto or Vaughan's hottest restaurants, you've probably tasted the unmatched freshness that is Quality Cheese.
An established name, Quality Cheese has earned a great deal of respect and recognition in the industry since Almerigo Borgo Sr. spearheaded its legacy in 1988. Soon after its inception, the company became recognized as the only brie producer in Ontario, winning a gold medal for the French-style cheese in 2000.
"When my father founded the company, many of the cheeses that are now domestic to Canada were unknown at the time," explains Albert, the company's vice president. Now in its fourth generation of family tradition, Quality Cheese has come full circle with its Bella Casara brand of buffalo milk products, which was launched this past April at Pusateri's Fine Foods. "We are now the only producer of buffalo milk cheese in Eastern Canada," he says. Locally made and low in cholesterol, the calcium-rich cheese offers superior taste and nutritious health benefits.
With only two farmers in Ontario producing buffalo milk, this delicate class of cheese is a rarity in the
province – making it that much more desirable. "This is huge for Canada because we are pioneering a brand new cheese right here, the way my father did when he started the company," shares Albert. "It's a challenge, but it's exciting because we're breaking new ground."
So what's special about cheese produced from buffalo milk? "The milk is richer and higher in fat and protein, which produces a richer, better-tasting cheese," explains Albert. Also, by taking buffalo mozzarella and ricotta from its birthplace of Italy and making it a household product, Quality Cheese has created a local, greener good.
So next time you're grocery shopping or dining in the city, make the right choice for you and the environment by asking for Quality Cheese's Bella Casara buffalo products.
www.qualitycheese.com
905.265.9991
111 Jevlan Dr. Woodbridge, ON