As a child, Elisapie Isaac was known as "that little singing girl." Her mother recognized her natural ability right away, encouraging her to voice her talent to the community. But growing up in the most northern village in the Nunavik region of Quebec was a rather unlikely springboard for a singing career. Releasing an album, performing nationwide — these were but pie in the sky ideas to Elisapie. Until the day that the little singing girl realized that life is what you make it.
"When you're from the North, you don't necessarily have those kind of dreams," says Elisapie, who has since received a Juno Award for Aboriginal Recording of the Year, industry buzz for her solo albums There Will Be Stars and Travelling Love and the Claude Jutra Award for best new director for her documentary If the Weather Permits. "We're all dreamers when we're young, but you know, to actually do it as a career, it was just not possible. We didn't have a lot of references or examples of people making it. It took a while, but it grew on me, and I realized, gosh, I just hope to give it a try."
Read more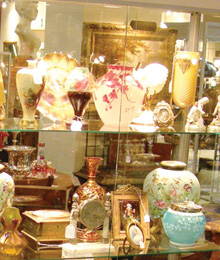 In its third year, the Premier Antique Show at the Metro Toronto Convention Centre continues to blow vintage lovers away. Antique dealers from across Ontario and Quebec are coming together on October 26, 27 and 28 to feature decorative arts, furniture, porcelains, clocks, pottery, fine jewelry and more. Read more
After a friendly Montreal taxi driver wishes me good luck, I make my way towards Londono Realty Group, which doubles as the set for the national hit show The Property Shop on HGTV. A splash of knowledge and a tidal wave of fun, the show has cameras following big-league realtor Tatiana Londono as she navigates through the cutthroat world of real estate.
The novice broker, who would construct makeshift lemonade stands with her brother as a child, began with four employees and now has 100-plus agents. Londono Realty Group is an empire led by a beautiful empress, similar to the ones we used to see in old Hollywood movies. Add smart and driven to success and you can start to conceptualize Tatiana Londono.
The receptionist is young and inviting, and similar Read more
In this era of the chef as a celebrity, it is refreshing to come across someone like Ricardo Larrivée, host of the hit Food Network show Ricardo and Friends. Ricardo is a passionate man who believes that food and the sharing of food can result in positive changes in our society. And he is willing to put everything he has into pushing for those positive changes by opening his heart and his home to his viewers.
One of the first things that strikes you about Ricardo Larrivée is that he loves to talk, he loves to engage and converse in a robust and stimulating way. Ricardo is movie-star handsome. He is a friendly person who claims to have fallen into his current position as one of the hottest and talented cooking show hosts in the country by accident. He explains his success by saying that he has always had an innate knack and talent for cooking. Read more