Marshall Jay Kaplan, Reaches for the Stars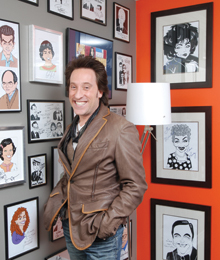 It's 3 p.m. on a Tuesday afternoon and Marshall Jay Kaplan is in the middle of reviewing an episode of My House Your Money for the W Network, one of five shows he's produced in recent years, which  includes TLC's Brides of Beverly Hills and TVTropolis' Instant Cash. A few hours earlier he received a phone call from a Canadian Forces corporal who wanted to inform him that the base loves his reality show Totally Tracked Down, where Kaplan himself heads to Hollywood and hunts down celebrities from the '80s and '90s like Cloris Leachman and Doris Roberts. If we can learn anything from this Vaughan, Ont. resident, it's that we're all capable of drawing our own destinies.
Most people would go on to become a doctor after getting a double degree in microbiology and biochemistry, but as you'll soon discover, Kaplan is not like most people. Instead, the University of Toronto graduate decided to turn his talents as a caricaturist into a career and hit the Yellow Brick Road in pursuit of pursuing the celebrities he grew up celebrating. His affinity for the famous began at adolescence, when a young Kaplan would sit in front of a bunny-eared television set and draw portraits of his favourite stars from Hollywood Squares, The Brady Bunch and The Lucy Show. "I think sometimes things are innate, I mean who tells a seven-year-old to start sketching Charlie Chaplin or Lucille Ball?" says Kaplan, who began studying and corresponding with legendary caricaturist to the stars, Al Hirschfeld. "I thought, 'I want to be like him, I want to do what he does.' That's when I started to draw caricatures a lot, a lot, a lot, a lot, like all the time!"
Kaplan began pitching his cartoons to local newspapers and was almost immediately syndicated in Canada. As his success snowballed, he proceeded to push his "Where are they Now" column to nearly 60 newspapers in the U.S. that picked it up. His idea to send cartoons directly to celebrities was probably one of his greatest. "You never know what's going to happen, so if you don't try anything, nothing will happen," says Kaplan, who had to resort to phone books and mail in a pre-dot-com era. When he started getting positive feedback and thank-you letters from people like George Michael, John Travolta and Quentin Tarantino, Kaplan became captivated. One instance of gratitude particularly rings a bell: "I answered the phone and someone said, 'Please hold for Bono.' I was like, 'what!?'"
Eventually it got to a point where Kaplan wanted the people he sketched on paper to come to life. He wanted to meet them face-to-face. He started pitching TV concepts to production companies and eventually, Totally Tracked Down got picked up in 2010. "I was pitching it as a producer and they said, 'Well, why don't you host it?'" So the offbeat, spikey haired, self-proclaimed "nut bar" from Woodbridge set out to Los Angeles to track down stars like Seinfeld's Estelle Harris and The Brady Bunch's Christopher Knight. Sometimes he'd have to jump through hoops and harass family and friends, while other times he'd just happen to be at the right place at the right time. "You have to think positive and you attract positivity. Here I am, I have this affinity towards celebrities, and I bump into them," says Kaplan, which was the case when he spotted Lindsay Lohan outside the Beverley Hills Hotel on one of his days off. "I saw her walk in and followed her … the whole time we were talking she held my hand, she never let go of my hand once and she always looked me right in the eyes, sweet as can be." Totally Tracked Down was cancelled when a new production company came in, but Kaplan was consoled when his show was posthumously nominated for a Gemini award.
When Kaplan looks back on his career, he's proud of the decisions he's made. His cartoons are still published between 400 – 500 times a year in various North American newspapers, and his mind permeates with new show concepts he hopes to create. As for his time spent studying sciences in university? He would never erase those years; it's there that he fell in love with his wife of 21 years, Frances. The couple has three children. "Follow your heart, that's the first thing. Do whatever you want in life because if you do what you want you'll be successful because you're happy."

www.marshallarts.ca