Keep that light and bright colour from last season in your home as the fall starts to bring darker, gloomy weather our way.
LIMITLESS White adds an extra sense of harmony, space and vividness into any room. With this all-white bed or sofa set, you'll surely be adding a bit of brilliance into any dark room. www.limitless-toronto.com 416.366.5288
STRAWBERRY LANE Add beautiful, flourishing plant life to your home to create positive energy and to remind yourself that your plants won't be buried in leaves and snow forever. www.strawberrylane.ca
THE COMPANY STORE Your summer flowers may not be in bloom anymore, but you can add that pretty floral liveliness indoors with a fun flower-printed pillow. Read more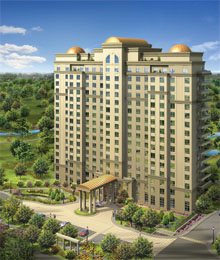 As the third tower of Bellaria Residences prepares to debut its splendour, the lavish condominium complex set in the expanding city of Vaughan is proving that good things do come in threes. Carving a niche in the luxury condo market, Bellaria sets the standards high for those who want to follow in its footsteps.
A feat superbly accomplished by Solmar Development Corporation, the lavish Tower 1 and Tower 2 structures of Bellaria Residences are not just the first high rises in Vaughan, but the epitome of a fairytale lifestyle with all the trimmings. "As a Bellaria resident, I can say wholeheartedly that it's a great place to live," says Amal Mishaiel. "The building itself is aesthetically beautiful and meticulously kept. Often times, my guests feel as though they are in a hotel rather than a residence," she gushes. Read more