Held at the Paramount Event and Conference Centre in Vaughan,
Hollywood fitness guru Richard Simmons, The Pointer Sisters and the Magan Boys entertained the young stars of tomorrow at the second annual Dance to Conquer Cancer — Disco Days and Boogie Nights. Held at the Paramount Event and Conference Centre in Vaughan, the event raised over $450,000 to benefi t cancer research at Princess Margaret Cancer Centre. Students over the age of 12 broke out into 70 teams and danced the day away as Paul Alofs, president and CEO of their efforts. Participants danced 10,000 steps in support of cancer research funding before enjoying a delicious dinner and incredible
At a signing ceremony on Dec. 19, 2012, the Toronto Catholic District School Board and Villa Charities Inc. announced a joint development project that will function as a hub for Toronto's burgeoning performing and fine arts community. Serving the educational, cultural and recreational needs of the Dufferin Street and Lawrence Avenue West neighbourhood, the $50 million redevelopment project will house a variety of services, including a reinvisioned Columbus Centre, Carrier Art Gallery, Day Care and a new Dante Alighieri Academy that will boast space for 1,300 pupils, extended fitness and music facilities, dance studios and a shared theatre. The first phase of the project is anticipated for completion in 2016.
www.tcdsb.org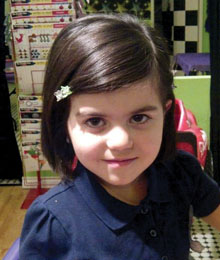 Five-year-old Giada Zingone made the decision to change a child's life. Following in her older sister Noemi's footsteps, Giada cut her hair and donated it to Angel Hair for Kids, a division of A Child's Voice Foundation. Angel Hair for Kids is dedicated to providing wigs and hair loss solutions to children suffering from medical conditions or treatments that cause hair loss.
www.acvf.ca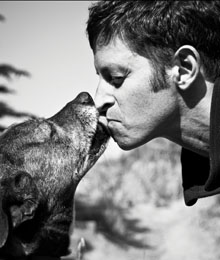 What would you do with $1,000? Supporting individuals eager to put their social conscience in motion, The Pollination Project doles out a grand to today's change-makers — individuals with ideas that will touch the lives of others — each day of the year. Whether your idea will benefit your neighbour, the environment, animals, social justice or community health and wellness, the non-profit organization aspires to nourish your intended good deed with financial support. Calling on individuals in our community to manifest goodness in the world through individual action, founder Ari Nessel, a Dallas-based entrepreneur, explains that almost everyone has the capability of spreading hope and change, no matter the size. "The Pollination Project believes not that we need more Mahatma Gandhi's or Martin Luther King Jr.'s in the world, what we need is individuals — large amounts of people — who are making small changes in and around their community." To kick-start change in your community, apply for a grant at ThePollinationProject.org.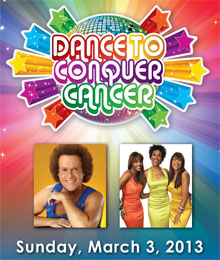 Join the mission to conquer cancer in our lifetime at the Paramount Conference & Banquet Hall on March 3, 2013. The event kicks off with Disco Days, a three-hour afternoon dance-a-thon that encourages participants to shimmy their way through the disco era while accumulating 10,000 steps. In the evening, the stage for Boogie Nights is set, with guests enjoying a fabulous dinner, fun surprises and entertainment by The Pointer Sisters.
The Dance to Conquer Cancer fundraiser is an annual event that supports The Princess Margaret Cancer Foundation, one of the top five cancer research centres in the world. Recently embarking on a billion-dollar challenge that will set the gold standard in personalized cancer medicine around the world, The Princess Margaret's approach to cancer treatment involves four areas of focus: detect, diagnose, target and support. From breast and ovarian to prostate, brain and lymphoma cancer research, participants at the Dance to Conquer Cancer fundraiser can select the area of cancer research at The Princess Margaret in which they would like to support.
For more information and to purchase tickets, go to www.dancetoconquercancer.ca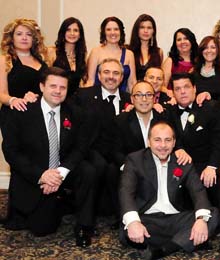 The Smiles of Innocence Memorial Charity is an organization of caring individuals dedicated to promoting awareness and raising funds through various activities in the community. On Nov. 10, 2012, its Annual Gala attracted over 1,000 attendees at Le Parc Dining and Banquet hall in Markham, where guests enjoyed an entertainment-filled evening with performances by Sensations, Blue Soul and Brass Transit. The charity event also hosted silent and live auctions, as well as many raffles, including a $5,000 shopping spree prize at Radiant Fine Jewellers. The Smiles of Innocence Memorial Charity is an organization that supports high-priority programs at the Hospital for Sick Children. To date, it has raised over $2.5 million for the SickKids Foundation.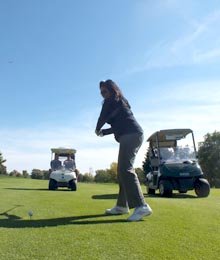 On Sept. 27th, 2012, the hard-working businesswomen of the Brampton Board of Trade tore up the links at Brampton Golf Club for the 12th Annual Ladies on the Links Golf Tournament. The Brampton Board of Trade thanks Dolce Media Group and other proud sponsors for their support of Brampton's business community.
When the women and children at Red Door Family Shelter in Toronto awoke last Christmas morning to find nearly 200 shoeboxes stuffed with thoughtful presents from local women, they were shocked. "It's a real gift to see that the community cares about them and cares about the crises they're going through," says Bernnitta Hawkins, Red Door's executive director. What stemmed from a generous gesture has become a national initiative to spread joy over the holiday season to those who need it most. "It's not a huge thing, but I do believe in it," says Caroline Mulroney Lapham, co-founder of The Shoebox Project.
After a conversation in mid-November 2011, Mulroney Lapham was inspired to help her sister-in-law Jessica Mulroney extend her mother's philanthropic mission to the streets of Toronto. "Her mother would put together shoeboxes filled with small items that women really enjoyed — little splurges — and she would ask her friends to do the same and deliver them all to a local shelter in Montreal. Jessica said she wanted to bring it here and I thought it's such a nice idea." So they banded together with fellow sisters-in-law, Vanessa and Katy Mulroney, and sent an email out to family and friends inviting them to participate. "We were worried for a while that we wouldn't even get 100 shoeboxes, and low and behold, we got almost 400 without any kind of marketing," says Mulroney Lapham, who was delighted to be able to share the shoeboxes with other local shelters across the city.
Read more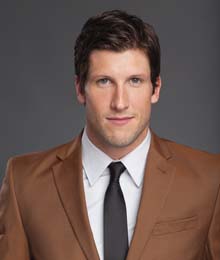 Local figures reveal their favourite New Year's Eve memories.
Brad Smith
Bachelor Canada, Citytv
''I started a tradition about five years ago where I would always go back home to my parent's place in Montreal for New Year's Eve and cook them dinner. So every year since then I've spent it subsequently with my brother, my sister and the kids, and we'd just have everybody over to celebrate. The most memorable one was 2009. I made six pounds of mussels in a spicy tomato marinara sauce, Swiss chard and collard greens with diced bacon, and goat cheese smashed sweet potatoes. We also had about seven bottles of wine. Whenever I go back to Montreal I love doing the same thing, which is just trying to get my entire family under one roof because we're just absolute crazies! This year I think Bianka and I are actually going to be in Mississauga for New Year's. We're going to my parent's from December 21st to the 25th and then we'll head to her parent's for Christmas night probably through to New Year's."
Read more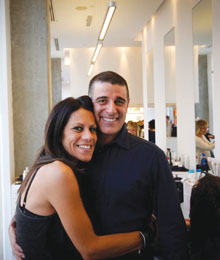 Solo Bace Salon, April Maloney Salon, Lift Salon and Bob and Paige Salon hosted this year's Annual Mane Event fundraiser. Proceeds from hair care services, a raffle, silent auction and direct donations raised $32,000 for The Teresa Group, a community-based charitable organization serving children and their families affected by HIV or AIDS. Steve Roy, founder of the Mane Event and stylist at Solo Bace Salon, explains that the well-being of innocent children fuels his passion for the cause. "It's for the kids," he says.