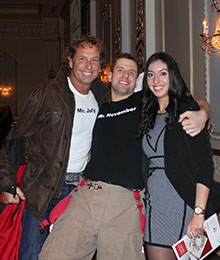 Held at Vaughan's Venetian Banquet Hall,
The third Annual Girls' Night Out Gala turned up the heat on 300 guests at Vaughan's Venetian Banquet Hall in support of The Princess Margaret Cancer Foundation's Fire Fighter's Cancer Research Fund. The first 200 guests were handed a steamy 2013 firefighter calendar before erupting into a frenzy fueled by a thrilling gala raffle and entertaining floor show featuring classically trained viloinist Grenville Pinto and the Toronto Fire Fighters. Since its inception, the event has raised over $10,000
Held at the Paramount Event and Conference Centre in Vaughan,
Hollywood fitness guru Richard Simmons, The Pointer Sisters and the Magan Boys entertained the young stars of tomorrow at the second annual Dance to Conquer Cancer — Disco Days and Boogie Nights. Held at the Paramount Event and Conference Centre in Vaughan, the event raised over $450,000 to benefi t cancer research at Princess Margaret Cancer Centre. Students over the age of 12 broke out into 70 teams and danced the day away as Paul Alofs, president and CEO of their efforts. Participants danced 10,000 steps in support of cancer research funding before enjoying a delicious dinner and incredible
Held at King Street West's Forget About It Supper Club,
A Night In Red's Ducati-themed charity event for the Hospital for Sick Children, organized by Rev It Up Foundation, brought out best in guests, sponsors and volunteers who raised $25,000. DJ Mario "Figs" set the soundtrack for a high-spirited evening of generosity. Driven to make a difference, Rev It Up Foundation also proudly announced a long-term $500,000 commitment to SickKids which will be used to purchase leading-edge equipment for the hospital's cardiology fl oor. Rev It Up For SickKids' annual ride will be held in July.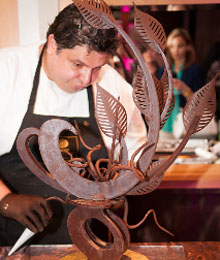 On May 10 2013, chocolate lovers can indulge in their love of the sweet treat at the fourth annual Vaughan Chocolate Ball in support of the Heart and Stroke Foundation. From appetizers to dessert, chocoholics will sit down to a chocolate-infused dinner at Le Jardin in Woodbridge, Ont. Hosted by Global Toronto's News at Noon anchor Antony Robart, the event will feature live entertainment, raffles, door prizes and a grand silent auction with exquisite pieces up for bid.
Visit www.thechocolateball.com for tickets and information.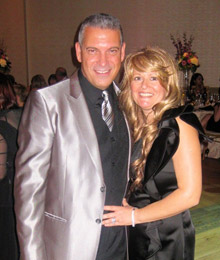 Inspired by his wife winning her battle over breast cancer, Vaughan resident David M. Bernardo has set out to celebrate and raise awareness on the most common cancer to affect Canadian women. On April 19, 2013, the inaugural Claudia Conquered Cancer dinner and dance will take place at Da Vinci Banquet Hall in Woodbridge. "We want to ensure that with our help, a large sum of money can be raised to hopefully find a cure for cancer in our lifetime," says Bernardo, who is funding the event and personally matching all donations made. "We don't want anymore families to have to go through this adversity." According to the Breast Cancer Society of Canada, close to 23,000 Canadian women were diagnosed with breast cancer in 2012.
All proceeds from the Claudia Conquered Cancer event will go to the CIBC Run for the Cure and Princess Margaret Hospital. For tickets, call (416) 543- 0726 or email david.bernardo@rogers.com.
Vaughan resident David M. Bernardo with his wife, Claudia Bernardo, will host the Claudia Conquered Cancer dinner on April 19, 2013. Claudia was diagnosed with an advanced stage of breast cancer in 2012. She is now cancer-free.
A mighty whiteout that blanketed the GTA area with over 25 centimetres of snow on Feb. 8, 2013, resulted in flight cancellations and extreme road conditions. Getting to work and school proved difficult, with vehicles stuck in deep banks of snow, and neighbours and strangers coming to each other's rescue a common sight throughout the day. As the snow continued to pile up, Vaughan residents Emile and Remi Riga, along with their friends Jason and Isabelle Del Rio, made the most of the snow day by digging through a large mound of the fluffy stuff and building a cool cave in their backyard. The Riga family dog Buddy happily joined the youngsters in the winter fun.
At a signing ceremony on Dec. 19, 2012, the Toronto Catholic District School Board and Villa Charities Inc. announced a joint development project that will function as a hub for Toronto's burgeoning performing and fine arts community. Serving the educational, cultural and recreational needs of the Dufferin Street and Lawrence Avenue West neighbourhood, the $50 million redevelopment project will house a variety of services, including a reinvisioned Columbus Centre, Carrier Art Gallery, Day Care and a new Dante Alighieri Academy that will boast space for 1,300 pupils, extended fitness and music facilities, dance studios and a shared theatre. The first phase of the project is anticipated for completion in 2016.
www.tcdsb.org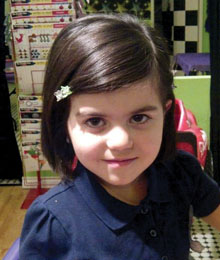 Five-year-old Giada Zingone made the decision to change a child's life. Following in her older sister Noemi's footsteps, Giada cut her hair and donated it to Angel Hair for Kids, a division of A Child's Voice Foundation. Angel Hair for Kids is dedicated to providing wigs and hair loss solutions to children suffering from medical conditions or treatments that cause hair loss.
www.acvf.ca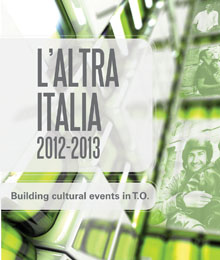 Culture-infused films straight from the boot is what L'Altra Italia — the non-profit organization highlighting Italian arts — has been bringing to Toronto since 2002. Partnered with TIFF, L'Altra Italia screens the finest Italian projects at one of the country's most renowned locations. For a kick of culture, movie-lover members can catch the screening of Il Giorno In Più at the TIFF Bell Lightbox on February 8 or at the Colossus Vaughan Cinemas March 21. La Moglie Del Sarto screens at the Lightbox on March 1 and at Colossus on February 28.
www.laltraitalia.org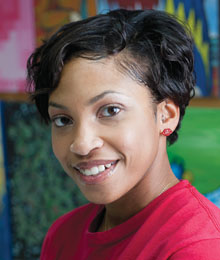 Vaughan Public Libraries is kicking off this year's Black History Month with a series of art exhibits featuring the works of Black History artists Celia Wilson and Samar Smith. The educational experience will continue with a visit from author Sandra Whiting, who shares legends and folktales from West Africa and the Caribbean in celebration and promotion of ethnic diversity.
www.vaughanpl.info