Vinsanto: The Pinnacle of Fine Dining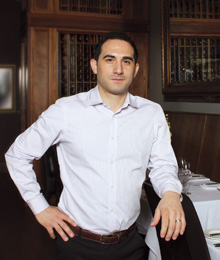 Nothing caps off a long week like a decadent evening out at a first-class restaurant. But what really makes a great dining experience? Is it the mouth-watering cuisine? The relaxing and welcoming atmosphere? The exceptional service from a maître d' who inspects each plate before it's served? Or a seemingly endless wine list with world-class vintages from top vineyards? At Vinsanto Ristorante, each of these things is an integral part of the whole package.
Much like the delectable baked oyster mushrooms from its popular antipasto Funghi di Bosco, this is just the start of the Vinsanto Ristorante experience. "My motto is passion, ambience and decadence," says John Di Vittorio, owner of Vinsanto Ristorante. "That's what I've strived for from Day 1." It's this uncompromising dedication to the perfect dining experience that has elevated Vinsanto to the summit of Vaughan's dining scene.
Celebrating Vinsanto's fifth anniversary this past spring, Di Vittorio continues to stick to the resolute principles of quality and service that have cultivated his success. That philosophy implies using only the freshest ingredients from local vendors, ensuring his patrons dine on only the finest fare. "Food is No.1 at Vinsanto. Without good food you're not going to have a good restaurant," says the 25-year industry veteran, who's also won the Top Choice Award for Top Italian Restaurant in Vaughan two years running.
With Chef Andrew Yacoub – a student of the renowned Le Cordon Bleu Paris Culinary Arts School in France – leading his kitchen, Di Vittorio knows customers won't scoff at the cuisine, as he explains, "I can organize everything and make the service perfect, but if the food isn't being prepared well the restaurant isn't going to be successful."
"I think it all boils down to service," he adds, while also explaining how he personally inspects every plate before it's served. "After a long hard week, customers really appreciate sitting down, being treated with respect and enjoying a great meal. That's what they get from Vinsanto."
A recent renovation has added a 40-seat solarium to Vinsanto, taking its seating from 80 to over 120. This increase allows even more room for events you have planned. "Any event we host is given our utmost attention," concludes Di Vittorio. "With the food, the service and the fact that I personally oversee every aspect, you can rest assured that your party will go off without a hitch."
www.vinsanto.ca
905.264.3991