Movember: Let's Get Physical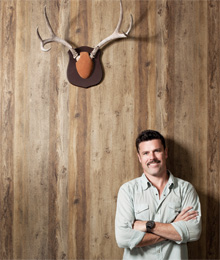 What do you think of when you see a moustache? One hundred moustaches? How about 250,000 moustaches? Well, it's that time of year again when Movember is upon us and, in addition to growing a moustache, it's when we focus on men's health, a time for public and private conversations on the health risks men face. It's also a reminder to schedule your annual physical.
The dreaded annual checkup. It's something a lot of guys think about but often don't make the time to do it. Getting an annual check and preventative screening tests are among the most important things you can do to stay healthy.

Think of it as a car tune-up. Would you let your dream car go longer than a year without maintenance? Probably not. You shouldn't let your body go that long without one, either.
To help debunk any mysteries about the annual checkup and make it a little less scary, I thought I'd share my own experience with you. And just to add an extra element of dread, mine was filmed to share with Movember fans across the world. And posted to YouTube. You might think I'm joking, but I'm not.To make it easy to remember, I schedule my checkup every Movember (a portmanteau word of November and moustache). It's a good idea to pick a time that works for you and make a habit of it. I've just entered my 40s, so for me, my yearly exam includes:
 
A Physical Exam: Height, weight, blood pressure. Thankfully, I'm always the same height and my weight is usually in the same vicinity. For me, blood pressure has never been an issue, but it's really important to check as it is impacted by diet and lifestyle.
Routine Blood Work, including a Cholesterol Test: A few years ago, my cholesterol levels were slightly elevated, so we now check it annually. My doctor advised to adjust my diet and increase my physical activity in order to keep it in check. Now I watch my fat intake as much as I can and try to cycle or run three to four times a week. 
Skin Cancer: I'm from Australia and live in California. Spending a lot of time in the sun makes it important for me to be aware of any changes on my skin. My doctor takes pictures of moles we need to monitor so we can see any changes over time. And I can still spend time in the sun when I get the chance.
Prostate Cancer Screening: I had my first Prostate-Specific Antigen (PSA) test a year ago. To me, it's important to have that baseline so that year over year we can monitor and make sure it's in check. It's a simple blood test. Contrary to what you might have heard, this is a pants-on screening.
Testicular Cancer Screening: This is where you drop your pants and cough. Insert many funny jokes here. It's a little cold, and perhaps slightly awkward, but in the grand scheme of things, not all that bad. 
Eye Health: A vision test to check for eye conditions and glaucoma. Just like when you get your driver's license. I passed. 
• Educate yourself: Each decade of your life brings new health concerns. Knowledge is power and equipping yourself with the facts to know what to ask your physician is important.
• Know your family history: Make sure your physician is up-to-date on any hereditary family conditions that you should be monitored for.
• Get the results: Make sure you get the results of any tests and work with your physician on an action plan to maintain your fine-tuned status.
• Book annually: Make your checkup a yearly event each Movember. Stay on top of your game — don't wait until you get sick to visit your doc.
 
What are you waiting for? Man up. Go ahead and book it. Mo on!