Steven Reineke: A sit-down interview with the Toronto Symphony Orchestra's newest hit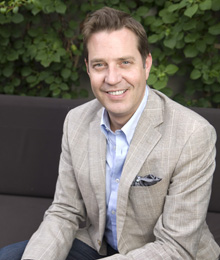 If you ever get the chance to experience an orchestral performance, your perception of what music is supposed to feel and sound like will suddenly be heightened to glorious proportions. Music — every note and bar of it — has always played a part in the life of virtuoso Steven Reineke.
On the rooftop patio at The Spoke Club on King Street West, City Life Magazine sat down with the charismatic symphonic composer, arranger and conductor to discuss what the city of Toronto sounds like, and what he hopes to bring to the mix.
Q: How does it feel to be the Toronto Symphony Orchestra's (TSO) newly appointed, first principal pops conductor?
A: I'm really excited. It kind of feels like we've been dating for about 14 years and just got married: I made my debut here back in 1997, so I'm well-acquainted with the orchestra, a lot of the players and the staff. It was like a long engagement, so we are very happy to finally be wed.
Q: What are you hoping to achieve this year?
A: What we're doing is really giving the pops an identity; we're starting to brand what the TSO Pops is. It's been a fine series for a number of years, but we decided we wanted to have somebody at the helm, planning what the programmes would be, planning what the seasons would look like, figuring out how to expand our offerings into the future and broadening our audience base and demographics. So the differing types of programming that I'm going to bring here will help do that. And also give the orchestra a face — somebody that the audience can relate to.
Q: What are some of the programmes you're excited about?
A: Well, this first season is terrific, and I treat all of the programmes like children, so it's hard to pick one that I particularly love. I'm looking forward to the opening of the season — it's a glorious night featuring music from Rodgers and Hammerstein, which certainly appeals to our normal demographic. But one way that I like to dress that up is having young, current, contemporary singers from Broadway and from Toronto singing on that programme; giving a fresh new spin on that take of music. I'm doing a programme of love music in February called Love Will Keep Us Together that I'm very excited about. And I know a lot of people, including myself, are really excited about the one we're closing the season with — West Side Story.
Q: What is it about certain stories that continue to have an appeal factor today?
A: West Side Story is just a classic musical, and now an iconic film. It has a brilliant score by Leonard Bernstein, which I think is timeless, as timeless as the story itself. Obviously William Shakespeare's Romeo and Juliet, which has been, you know, reimagined in so many different ways, and the film version of West Side Story, is like I said, is just iconic, and the music is ingrained into people's heads. And the choreography, it's just brilliant.
Q: What does Toronto sound like to you?
A: I'm anxious to get to know the city better. Even though I made my debut here in 1997, now I'll have the opportunity to be here several times a year and really get to know the city a lot better. It sounds to me like a vibrant place full of cultural, intellectual people and a wide mix of ethnicities, which I like very much.
Q: How did you first get involved in music?
A: I first started playing the trumpet when I was 10, and then I started playing the piano. I just always had music sort of coursing through my veins. I always wanted to be involved in it, and it goes back to the earliest days — when I was five or six. I would put music on and dance around — I would even conduct to it. I guess I blame my dad, or thank him for this. My dad was a banker his whole life and his whole career, but he was also a folk guitar player just for fun. And from the time I can first remember, until I was 12 or 13, he would pull out his guitar and sit on the edge of my bed and play and sing to me to sleep every night. Music was always a part of my life.
Q: And you taught yourself piano, just by listening?
A: Yes, I taught myself piano. I had tunes running around in my head and I would sit down and I'd point them out. We didn't even have a piano in our house. I would do this at my friend's house after school or in the band room, and then in about the 8th or 9th grade I played piano live in a concert that my parents came to. They had no idea that I was doing this. And afterwards, they just came up to me dumbfounded and said, 'What were you doing, you scared us to death, how did you know how to do that?' About a week later, we had a piano in the house.
Q: How do you conduct your daily life?
A: I do a lot of travelling — somewhere around 30-35 weeks out of the year — and guest conduct with a lot of orchestras. In the mean time, I try to hold down the fort with three permanent positions with the Toronto Symphony, the National Symphony Orchestra in Washington, D.C., and the New York Pops. A normal day involves wearing a lot of hats, juggling a lot of things, because it can involve specifically programming a concert, which is figuring out what songs am I going to play, what tune? What piece am I going to play here, and when? So there are busy days filled with a lot of things. And when I have the time, I still write a lot of my own music as well.
Q: Do you ever get writer's block?
A: I get stuck a lot. I think that's only natural in any sort of creative field. You get writer's block from time to time, and I think it's a good thing, because you end up not rushing through. I find the best thing to do when you get stuck like that is really just stop, take a break, because the answer always comes, and it will come in the most bizarre moment.
Q: Do you have to be physically fit for this job?
A: You don't have to be, but I'd say it helps. And it doesn't hurt that I live right in the middle of Manhattan. I walk a lot. I walk everywhere.
Q: How did noted pops maestro Erich Kunzel influence your career?
A: Erich was a terrific musician. He took me under his wing when I was in my early-mid 20s, and I was his right-hand-man for 15 years. He passed away in 2009 and is the greatest music teacher, the greatest life teacher and best friend I'll ever have.
---
To find out more on the new pops concerts at the Toronto Symphony Orchestra.
www.tso.ca