DreamCare Medicial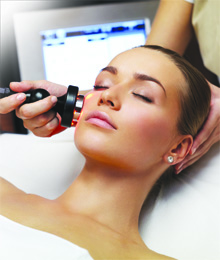 A medical revolution is stirring in Vaughan — and it's being led by DreamCare Medical, a novel concept that's rocketing the standards of health care to new heights.
Offering services that range from family health care and walk-in clinics, rapid access specialist appointments with medical and surgical specialists, to medical spa treatments and weight-loss assistance, DreamCare is equipped to meet — and exceed — all client expectations. Promising full client education on its services while erasing the lengthy wait times common in other Ontario facilities, the possibilities are endless at DreamCare.
With a diverse range of services headed by friendly, expert staff, clients are treated with professional care and treatments that make for a unique medical spa experience. "Our goal is to offer a full spectrum of services," says Dr. Nitin Chauhan, facial plastic surgeon and medical director of the DreamCare Medical Spa. "In addition to a broad array of sophisticated and safe medical spa treatments, this is a full-service, multi-specialty clinic. We have doctors from various disciplines that really can treat the vast majority of diseases, disorders and conditions. It's a one-stop shop in that sense."
Microdermabrasion, facial injectables, chemical peels, photo facials (IPL), laser hair removal and acne treatments — all offered in a bright, comfortable clinical environment and performed by trained professionals who are passionate about what they do — are a mere handful of DreamCare's services. Other treatments include Botox to treat wrinkles, injectable fillers such as Juvéderm for instant facial volume enhancement and contouring, and products such as Latisse, a revolutionary lash-enhancing product by the creators of Botox. "It's an excellent treatment with no downtime," says Dr. Chauhan, a fellow of the Royal College of Surgeons of Canada. "It works extremely well compared to everything else on the market."
Clients will experience superior support and reassurance as their needs are met with care in a medically supervised environment. Certified medical esthetician Kezia Pizzoferrato, who stands at the helm of the medical spa, welcomes clients with dedication, passion and expertise, and strives to achieve the esthetic results they've always wanted.
By taking a client-centred approach to health care, DreamCare Medical emerges from the crowd of unsatisfactory spas as a beacon of relief for patients. "A lot of it comes down to the training and experience of the doctors and clinicians," says Dr. Chauhan, who is double board-certified as a head and neck surgeon and in facial plastic and reconstructive surgery.
Amid Vaughan's growing population, DreamCare Medical rises above with innovation that promises to elevate the community. Whether you require treatment for a physical ailment or a cosmetic service to carry you into the fall season, you will find the highest quality of service and treatments at DreamCare Medical. "I think that what I enjoy
the most about what I do is that artistry — that blending of the technical, scientific and creative aspects of medicine — and making people happy and feeling better about themselves," says Dr. Chauhan.
905-303-1080
9401 Jane St., Vaughan, Ont.
www.dreamcaremedical.com