All Playa and No Work at LaPlaya Beach & Golf Resort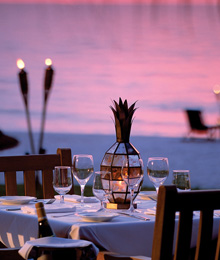 LaPlaya Beach & Golf Resort is a warm Floridian resort featuring tropical greens, warm yellows and floral prints. Located on Florida's Paradise Coast, which is home to exclusive residential communities on finger-like peninsulas, LaPlaya is close to Old Naples, which straddles a strip between the Gulf of Mexico and Naples Bay – a 12-block, L-shaped pedestrian-friendly downtown. It is here where two-storey, pastel-coloured buildings house one-of-a-kind boutiques, restaurants, antiques shops and art galleries, which feature the works by Marc Chagall, Pablo Picasso and Andy Warhol.

The seafront property of LaPlaya Beach features 189 guestrooms and suites divided into three water-view buildings that front a winding pool complex that's just footsteps from the powdery sand beach. The spacious rooms range from 400 – 600 square-feet; each with a balcony, wrought-iron furnishings, dual-line telephones and MP3-compatible radios. Most view the Gulf of Mexico through floor-to-ceiling windows (141 of the rooms have their toes practically in the sand), while some face Vanderbilt Bay. Even the bathrooms in the 15-storey tower offer generous views. The Lanai Rooms, with patios that connect to the beach,
are a favourite.

Leisure hours take place by the pools and on the beach. Beach butlers service the crisp blue cabanas, which are equipped with Wi-Fi and stocked with cold sorbets and water. The most luxurious cabanas feature ceiling fans, televisions and snacks, from fruit to oysters and champagne. Adults flock to the fitness facility and kids participate in the aquatic camp during school vacations. The ultra-exotic SpaTerre, which features four treatment
rooms – including a couple's suite that opens to the outdoors and has twin Japanese soaking tubs ­— takes guests on an invigorating journey. The spa specializes in Indonesian-inspired rituals such as the Javanese Royal Treatment, which includes an exfoliation, a Balinese massage and the soaking tub. As quiet surroundings melt your worries away, there are exciting outdoor activities to quench your thirst for adventure. Golfers favour LaPlaya Golf Course, an 18-hole, mangrove-bordered, championship golf course designed by world-renowned architect Robert Cupp. It has a practice area, driving range and clubhouse, and is home to the David Leadbetter
Golf Academy.
Baleen, the resort's signature restaurant, offers a "build-your-own-steak" option that's fun for any carnivore; with options going beyond cooking style to include sauces, toppings and side dishes. If you're looking for romance, Baleen will set up a cosy table for two surrounded by lighted Tiki torches on the beach.
A quiet escape bursting with charm, LaPlaya Beach & Golf Resort is the perfect setting for a lovers' getaway,
the golf aficionado and a fun-filled family vacation.
www.laplayaresort.com